Spain's national operator RENFE has signed a memorandum of understanding to co-operate with Chile's state railway EFE in areas including studies for new lines, the leasing and sale of rolling stock, staff training and the planning and operation of passenger and freight services.
Malaysian company Berjaya Land has established a Berjaya Rail unit with the aim of entering the rail and metro markets, including any revival of the project to build a high speed line to Singapore. Berjaya Rail is headed by Farizul Baharom, who has held previous roles including adviser to the Minister of Transport, head of the Project Management Office for LRT3 at Prasarana and head of legal and cross-border rail at the Land Public Transport Agency.
Cybersecurity company Cylus has launched its Rail Tech Security Platform, which is custom-designed for rail operators. 'Our expanded, completely passive, multi-feature security platform integrates seamlessly with existing rail operations and cybersecurity systems for unparalleled visibility and protection', said CEO Amir Levintal on May 22.
Richard Brown, founder and Managing Director of rail and transport consultancy North Star, died on May 22. Geraldene Lyon has been named acting Managing Director.
Africa Finance Corp has signed a memorandum of understanding with Morocco's Ministry of Economy and Finance to provide project development, structuring, and financing services for projects in the transport, renewable energy, natural resources, heavy industries and telecom sectors. Among projects under discussion is a 'significant' rail infrastructure investment package to improve passenger and freight transport between rural towns and the capital and ease road congestion.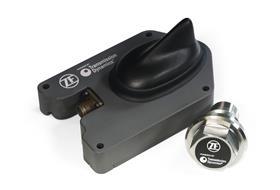 Following a successful pilot, ZF Aftermarket has launched a Smart Oil Plug developed with Transmission Dynamics to provide wireless real-time remote monitoring and analysis of rail vehicle gearbox health and behaviour. Smart Oil Plug will be integrated into ZF's connect@rail data insight portfolio.
TÜV Süd Rail has certified Version 5.1.3 of SYSGO's PikeOS real-time operating system at the levels SIL 4 of EN 50128 and EN 50657 (rail) and the highest level SIL 3 of IEC 61508 (industrial) for the ARMv8 architecture. The POSIX extension for PikeOS has now achieved SIL 2 levels for rail and industrial standards.
Brightline says its passenger trains in Florida are the first in the world to provide high-speed, low-latency broadband connectivity through SpaceX's Starlink satellites.
Eurofima has disbursed €70m to Czech shareholder and national operator ČD as the second tranche under an agreement signed in 2022 to finance the purchase of 100 Škoda RegioPanter dual-voltage EMUs and 22 Pesa RegioShark DMUs.