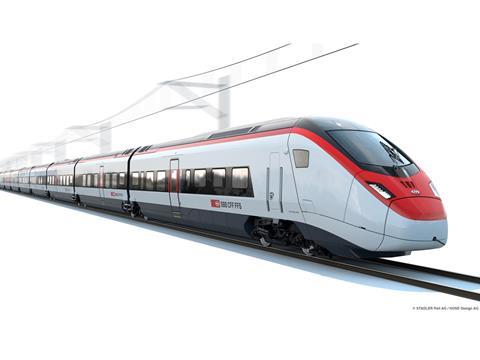 STADLER RAIL: Swiss rolling stock manufacturer Stadler Rail has announced plans to shift the focus of its growth plans away from the CIS and Middle East markets and towards the UK and the USA.
On June 19 Stadler said the Swiss national bank's decision to uncouple the franc from the euro in January had brought a sudden 20% increase in the price of its products, which was 'negatively impacting' the company. Meanwhile, planned expansion into the CIS market has been 'halted' by the weak rouble and sanctions on Russia. Stadler has also 'fallen well behind expectations' in the Arab market.
Record orders totalling SFr2·9bn in 2014 have enabled the company to compensate for the 'massive dip' in orders in 2011-12 and would ensure work at its plants for the near future. However the 'price shock' from the franc had left it with 'no other choice' but to reduce costs and increase working hours to 45 h/week. Purchasing has been transferred from francs to euros, and investments made in innovation.
Stadler 'is making every effort to maintain its activities within Switzerland' and the transfer of individual contracts from high-cost to low-cost countries would 'only be considered as a last resort.'
Stadler confirmed that Russian airport shuttle operator Aeroexpress had requested an adjustment to the payment conditions or a reduction in the number of the 25 double-deck EMUs it had ordered, and negotiations were underway with the banks financing the project and SERV Swiss Export Risk Insurance.
Discussing potential industry consolidation following the merger of CSR and CNR, Stadler said that 'by all accounts, discussions are currently underway' between Alstom, Bombardier and Siemens. Talgo and Newag have held IPOs, and Vossloh is looking to divest its rolling stock business. Stadler said was 'currently evaluating the strategic relevance of these potential candidates for purchase.'