Continuing the remarkable expansion of recent years, Swiss-based Stadler remains profitable as it pivots towards the signalling sector. Toma Bačić reports from the company's headquarters in Bussnang.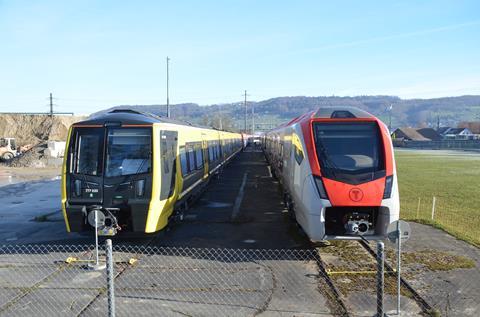 Over the past 20 or so years, few companies in the rail supply chain can boast a growth story as enviable as that of Stadler; from its roots focusing on bespoke vehicles for Swiss narrow gauge and mountain railways, the group has grown consistently over recent years to accrue a highly diverse, global portfolio spanning the full gamut of rolling stock and, increasingly, signalling technology. This expansion drive culminated in April 2019 with the once family-owned firm being listed on the Swiss SIX stock exchange.
2022 results
In mid-March, the company invited analysts and trade press representatives to its Bussnang factory for an update on its financial performance and its prospects moving forward. Announcing the company's annual results, Executive Chairman Peter Spuhler described 2022 as 'an extraordinarily challenging year in many respects'. It had been marked by 'a combination of inflation, energy and commodity price increases, supply chain problems, currency turmoil and geopolitical tensions, but also by encouraging records and numerous successes'.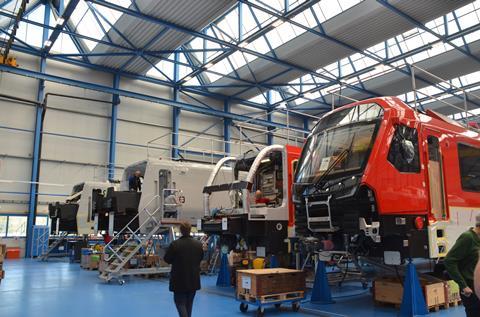 Despite the economic and geopolitical headwinds facing the group, Stadler's management team emphasised that it is on course to meet its medium term financial targets. Headline results for FY2022 showed orders up by 54% to SFr8·6bn, the highest in the company's history. Sales were up by 3·2% to SFr3·8bn, although turbulence in the currency markets when consolidating these sales into Swiss francs resulted in an accounting impairment of SFr140m. Nevertheless, Stadler remains firmly in the black, recording an EBIT of SFr205·1m, slightly down on the prior year result of SFr223·7m, and a 5·5% margin.
A growing portfolio
Until 2018, Stadler concentrated firmly on its core competency in vehicle production, but in June that year the group announced plans to expand into the signalling market, initially via the AngelStar joint venture with Italian inspection systems specialist MerMec. Through AngelStar, Stadler has developed a range of onboard ETCS equipment under the Guardia brand.
Since then, the company has sought to widen its signalling activity under its own brand, culminating in the creation on January 1 2022 of a distinct Stadler Signalling division. This decision was driven by a desire not to become overly dependent on technology developed by competitors to fit out its rolling stock.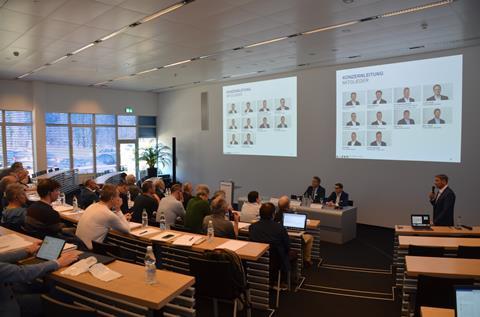 The signalling division is home to two recently acquired subsidiaries — German component specialist BBR Verkehrstechnik, which Stadler bought in December 2021, and Swiss interlocking producer Bär Bahnsicherung, purchased a month earlier.
Speaking to Railway Gazette in Bussnang on March 16, Stadler's Sales Director & Deputy Group CEO Dr Ansgar Brockmeyer explained that 'in-house, we are developing main line Class B ATP systems, ATO, anti-collision devices, CBTC and wayside signalling equipment', including electronic and relay-based interlockings. This would leave the AngelStar JV to focus on production of ETCS onboard units, which will be offered to the market as a commercial endeavour, rather than being restricted to use in Stadler-built rolling stock.
Stadler and MerMec are also working together to develop a fleet of infrastructure monitoring trains for Italy's RFI and ADIF of Spain, but this does not fall under the remit of the AngelStar partnership.
Tina turns up
Turning to the rolling stock market, Stadler placed particular emphasis on a handful of key orders received in 2022, which it believed were indicative of future expectations from customers in this market segment.
In the urban rail field, Stadler launched its Tina (Total Integrierter Niederflur-Antrieb or 'Total Integrated Low-Floor Drive') tram design in 2020. In two years, it has already received firm orders for 191 cars from cities in three countries. After an initial order in 2020 by Darmstadt operator HEAG Mobilo, procurements have followed from Baselland Transport, Rostocker Strassenbahn, Halle operator HAVAG and Den Haag's HTM.
'The special feature of the Tina tram family is its high flexibility combined with a high degree of standardisation', Brockmeyer explains. 'Thanks to the innovative bogie technology, Tina covers the most diverse vehicle concepts, such as multi-articulated and bogie vehicles or even mixed concepts. The optimised passenger compartment with wide aisles allows step-free access to the seats from every vehicle door.'
The design was the result of what Brockmeyer terms 'an intense reflection' on the needs of the 'steadily increasing' urban transport market. The company believes the highly flexible tram, which is being offered for all of the most common track gauges in the global tramway sector, will essentially complete its offering in the light rail segment.
Nordic Flirt next
The supplier also set out more details about the fleet of day and overnight trains which it is to supply to Norwegian rolling stock company Norske Tog. Branded 'Flirtnex' (Flirt Nordic Express), the 17 single-deck long-distance multiple-units are being developed under a contract signed on March 8. The deal includes options for up to 83 additional trains.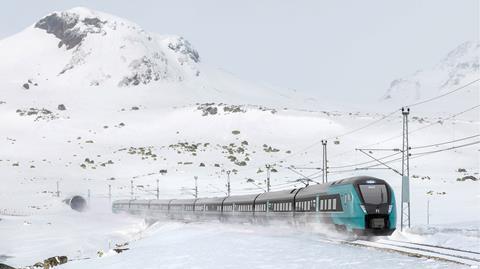 The first trains are expected to replace some of Norway's existing fleet of loco hauled trains on the Bergensbanen from 2026. The eight-car trainsets will have a maximum speed of 200 km/h and will be produced in electric and electro-diesel versions; they are to be assembled in Switzerland.
Norske Tog Project Manager Sille Svenkerud Førner told Railway Gazette that five of the Flirtnext trainsets would be configured solely for daytime operation, with the remainder offering a combination of day and overnight accommodation. Sleeping accommodation will be provided in two-bed for four-bed berths, along with saloons featuring reclining seats. The day trains will have 542 seats, while the overnight sets would have 439 seats in the daytime configuration. The fleet owner expects seven trains to be bi-modes which would be equipped with two diesel powerpacks housed in an end car.
Niche activity
While Stadler products such as the Flirt multiple-unit are now a familiar sight across the world, the company remains committed to its historic association with what the company calls 'tailor-made solutions', often bespoke vehicles aimed at niche applications.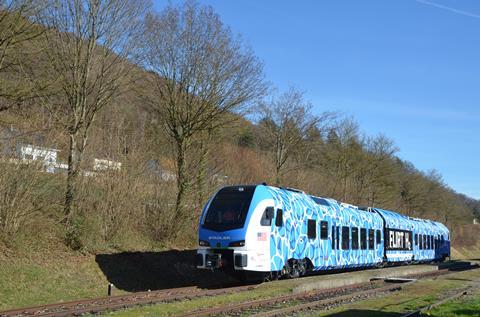 According to Brockmeyer, these 'individually tailored' products 'which are part of our DNA' accounted for 7% of the 2022 order backlog, worth SFr22bn. For comparison, the Stadler Locomotives business, largely managed from its Valencia facility in Spain, accounted for the same share of the order book.