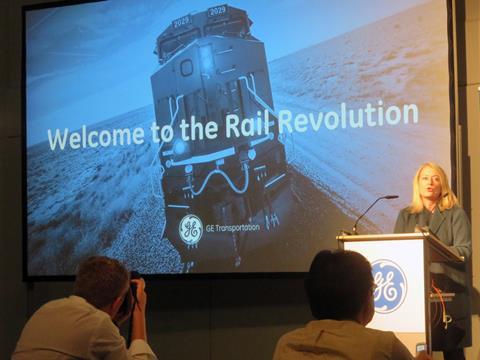 INNOTRANS: GE Transportation and Intel Corp have announced a partnership to offer GoLINC, a modular onboard computer package which acts as a 'superbrain' by integrating, storing and communicating the data produced by the hundreds of GE and third-party sensors now found on a locomotive.
The system is about 'leveraging data from the locomotives', GE Transportation President & CEO Jamie Miller told Railway Gazette.
GoLINC integrates with GE's Predix system which identifies trends and enables operators to act before a failure occurs. The aim is to create a smart ecosystem for railways, helping operators meet current market challenges.
The GoLINC mobile data centre 'saves time and lowers costs by reducing the amount of data transferred over cellular connections', said Val Stoyanov, Intel's General Manager, Global Transportation.
GE needs 'deep partners', said Miller, and 'Intel is an incredible partner'. GE benefitted from early access to the sixth-generation Intel Core i7 processor, and has developed a fan-free cooling system for the rugged onboard computers.
Miller said she was also 'very excited' about a partnership with DB, which is testing GE's predictive maintenance systems with non-GE locos. The pilot is going extremely well, and DB has held 'great discussions' during InnoTrans.
Across the rail sector, GE was 'working with customers everywhere'. In South Africa there is a strong commitment to skills development and localisation, where GE is producing 'the most African locomotive' in the market with 55% local content. Chinese suppliers have been winning orders in Africa, but Miller said GE was a strong company which 'has the most advanced technology', ensuring its products offer high performance, reliability and maintainability, at a highly-competitive total cost of ownership.
Miller said GE's primary focus 'has been and will continue to be' on freight, and the company has no plans to enter the high speed sector.