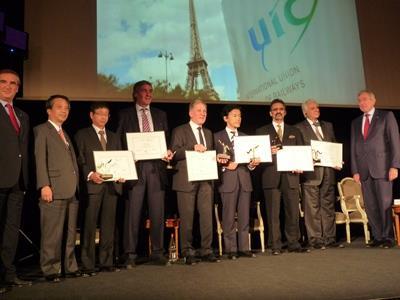 INTERNATIONAL: As part of the celebrations to mark the 90th anniversary of its formation, the International Union of Railways presented its first Innovation & Railway Research Awards at a ceremony in Paris on December 11.
During the event at the Automobile Club de France, following a high-level round table looking at the future role of railways in a changing world, the prizes were presented by UIC Director-General Jean-Pierre Loubinoux and the Chairman of the International Railway Research Board, Boris Lapidus, who is Director-General of the All-Russian Railway Research Institute (VNIIZhT).
Loubinoux said that UIC had been 'surprised and delighted' by the wide range of entries from both companies and individuals. Lapidus believed the association was 'opening a new page in our history'. Awards were presented in six categories, selected from a shortlist of 20 finalists.
Safety & Security: Kimiaki Sasaki from Japan's Railway Technical Research Institute for work on the development of semi-active suspensions to improve ride comfort.
Sustainable Development: Per Leander from Transrail, Sweden, for the CATO driver-advisory system, which offers the potential for significant energy savings.
Passenger Services: Jukka Närakkä of Soudim Oy of Finland, for the development of modular noise barriers.
Rail System: Masayuki Matsumoto of JR East for the ATACS moving-block train control technology introduced on the Senseki Line.
Freight: Semih Kalay, from AAR's Transportation Technology Center Inc for the FAST test track at Pueblo.
Cost Reduction: Prof Lev Muginschtein of VNIIZhT for the Elbras performance simulation software being used to optimise train operations on RZD.
UIC Acting Chairman Satoshi Seino of East Japan Railway said it was 'very meaningful' for UIC to create an awards programme recognising technical excellence throughout the world, building on its historic role as the conduit for exchanging technical knowledge between railways. The next UIC awards will be presented in 2014.