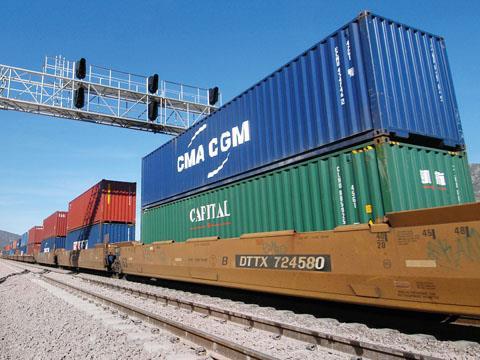 USA: 'Recent orders for double-stack equipment represent the early signs of a restoration in demand for this car type', President & CEO of The Greenbrier Companies William A Furman said on August 25, when the company announced contracts to built more than 1 000 double-stack container wagons and 700 hoppers in 2010-11.
Greenbrier is also to modify 1 100 existing container wagons, bringing the total value of the orders from five unnamed railway and leasing companies to $130m.
Greenbrier will increase the workforce at its Gunderson plant by 260, bringing the total to more than 900. As well as recalling workers previously laid off, it will redeploy 175 staff from its barge construction business which has been hit by 'softness in the marine market', leading to discussions with its largest customer which are 'likely' to result in cancellation or postponement of orders.
However, in the rail sector the need to compete with longer and heavier lorries means there is growing demand for double-stack well wagons able to accommodate 53 ft containers, despite a surplus of wagons for 40 ft and 48 ft boxes. According to Greenbrier, year-on-year growth in North American intermodal traffic has been 16·8%, ahead of the 10·1% increase in overall rail traffic.