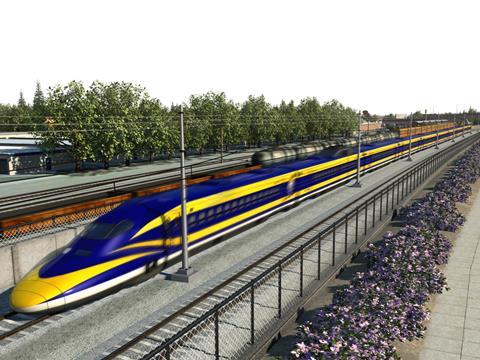 USA: California's high speed rail programme is facing potentially significant delays following a series of rulings on funding issues by the Sacramento County Supreme Court.
The rulings centre on the California High Speed Rail Authority's plan to use so-called Proposition 1A bonds to part-fund an Initial Operating Segment through the Central Valley as a precursor to offering a 'one-seat ride' between Los Angeles and San Francisco from 2029.
Judge Michael Kenny ruled on November 25 that when Californian voters approved the $9·95bn Proposition 1A (the 'Safe, Reliable, High Speed Passenger Trains Bond Act for the 21st Century') at a referendum in 2008, the measure required CHSRA to identify 'sources of all funds to be invested in the corridor' prior to construction commencing.
Groundbreaking on the first section of IOS covering the 47 km between Madera and Fresno had been expected this year, with CHSRA allocating a budget of $6bn for this starter segment, of which $2·6bn would come from Proposition 1A bond sales. But there is currently no funding in place for the remainder of the $31bn 480 km IOS which would take the planned 350 km/h high speed alignment from the Central Valley into the Los Angeles Basin. Kenny also found in favour of a group of plaintiffs campaigning against the project who had argued that CHSRA 'abused its discretion' by approving a funding plan which did not comply with the detail of the bond act.
With further federal funding beyond the $3·3bn allocated to the Fresno – Madera segment unlikely to be forthcoming in the near future, and the Californian state treasurer confirming that no bond sales would be enacted until these legal issues are resolved, it is unclear at present how the programme is going to proceed.
Also in doubt are the $1·8bn of enhancements for regional, commuter and urban rail networks across the state which are covered by the high speed rail programme. These include the $600m electrification and upgrading of the Caltrain network which would have enabled high speed services to share tracks with commuter rail trains south of San Francisco.