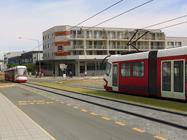 AUSTRALIA: Following bids by four consortia, the Capital Metro Agency has appointed an Arup-led consortium as technical adviser for engineering design, operations and infrastructure for the planned Capital Metro light rail line in Canberra. The consortium includes Hassell, Parsons Brinckerhoff, Brown Consulting, LandData Surveys, Phillip Chun Access, SLR Consulting, GML Heritage and DSB Landscape Architects. The technical advisory work is to be completed in the second half of this year, with construction starting in 2016.
'This critical piece of work will give us a detailed understanding of, and a preferred approach to, the project's technical elements', said ACT Minster for the Environment & Sustainable Development Simon Corbell.
The first stage of the project is a 12 km line between Gungahlin and the city centre, making use of grassed road median strips which were reserved for possible tram routes when the city was first planned.
Government funding for the light rail project was included in the Australian Capital Territory budget for 2013-14, announced in mid-2013. This includes an initial investment of A$5m for early design work and A$12m for further development over a four-year period.