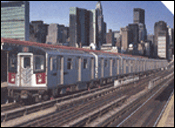 USA: New York's Metropolitan Transit Authority has awarded Kawasaki Rail Car an $87·1m contract for 23 new R188 subway cars equipped with communications-based train control; delivery is scheduled for the fourth quarter of 2012.

The R188 is designed for use on Division A of the New York City Transit network, the former IRT lines, and will be assigned to the No 7-Flushing route. The contract also includes equipping 10 existing R142A cars with CBTC, giving MTA three 11-car prototype trains to test CBTC on the No 7, which is due to be resignalled.

The contract also includes an $384·3m option for another 123 R188s and conversion of 350 existing R142As, taking the total CBTC-enabled fleet to 506 cars. This would provide MTA with 46 11-car trains by the fourth quarter of 2015 to replace the R62A fleet on the No 7 line. Bombardier, which supplied NYCT's R142 cars, decided not to participate in the tender.