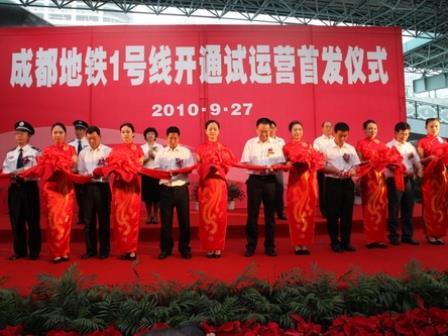 CHINA: The first phase of Chengdu metro Line 1 entered trial operation on September 27. Liu Qibao, Party Secretary and Chairman of the Sichuan Provincial People's Congress, travelled on the first train, which departed from Century City at 15.00 bound for Tianfu Square.

The inauguration followed three months of test running, which started in June and culminated in three days of test rides which carried 104 000 passengers between September 10 and 12.

Construction of the 18·5 km line began on December 28 2005 and cost around 8bn yuan. The route runs from Shenxian Lake in the north of Chengdu to Century City, via South Railway Station, and has 16 stations. Another intermediate station at Ocean Park has not yet opened. Journey time is 35 min. The line operates between 07.00 and 21.00 with trains running at 10 min intervals. A fleet of 17 six-car trains has been supplied by CSR Sifang.

Chengdu is planning to build a 298 km network with seven lines by 2020, with a total a capacity of 300 million passengers a year. Construction of Line 2 running northwest-southeast through the city centre has already started. Meanwhile, public consultation has started for the 19·6 km Line 3 with 15 stations, on a northeast-southwest alignment through the central business district.