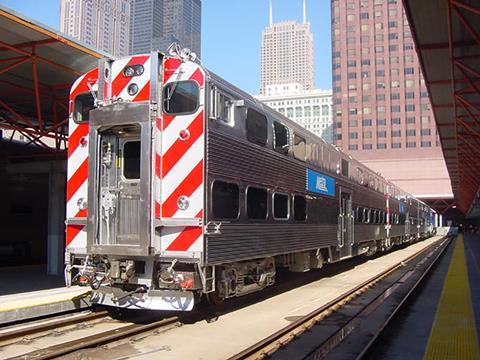 USA: Chicago commuter rail operator Metra announced on August 9 that it had suspended the procurement process for 367 gallery cars, for which it had issued a request for proposals on February 2.
The decision has been taken because of changes to the funding of Metra's $2·4bn modernisation programme. The state of Illinois has put on hold more than $300m that had previously been budgeted for the programme, and the agency says that this will affect the timescale of the procurement of new rolling stock.
Metra says that it is 'aggressively investigating' whether it can acquire and refurbish cars from other operators. It intends to reissue the request for proposals only once it has pursued all other alternatives.
As a first step, Metra has contacted Virginia Railway Express about taking over an option to purchase 21 cars from Nippon Sharyo, which VRE may not call off. The estimated cost would be around $2·5m per car, compared with Metra's estimate of $3·3m per car for its planned procurement. This could result in savings of around $17m for the 21 cars. If Metra were to take over the option, deliveries would begin in early 2018.
'The most important thing we can do right now is be flexible and creative in our efforts so that we can continue to achieve what we set out to do', said Metra Chairman Martin Oberman.
An interview with Metra Executive Director Don Orseno, including details of the original rolling stock modernisation plan, appears in the December 2015 issue of Metro Report International, available to subscribers in our digital archive.