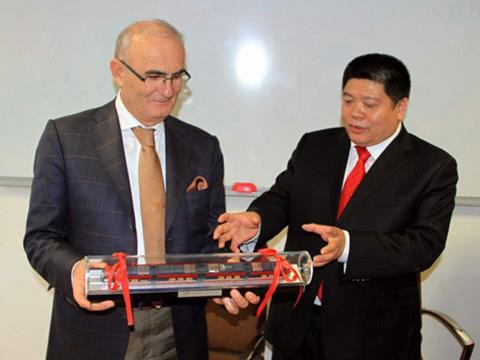 TURKEY: Samsun Metropolitan Municipality has awarded CNR Tangshan Railway Vehicles a contract to supply five 100% low-floor trams to increase passenger capacity on the city's light rail network.
The €7·5m contract signed on December 17 requires the first tram to be delivered by December 2013 and the last by February 2014. The Chinese firm will provide spares, technical support and a 24-month warranty.
The four-section standard gauge trams will have aluminium bodies and a floor height of 350 mm. Top speed will be 70 km/h, and they will be equipped for regenerative braking.
At 42 m the trams will be longer than the 16, 32 m long AnsaldoBreda Sirio trams delivered for the opening of the 17 km tramway in October 2010. This will give a 25% increase in capacity per tram, relieving crowding which has been experienced as ridership has grown from 13 million passengers in 2011 to 17 million in 2012. Further growth is expected when planned extensions to the line are opened.