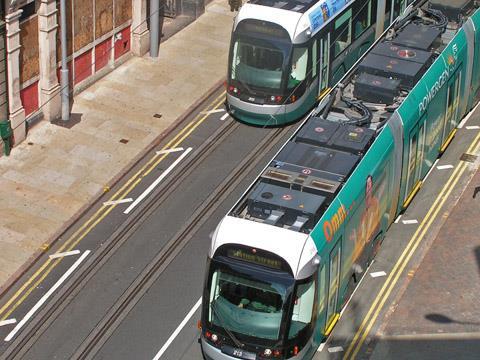 UK: Consultancy Atkins, bespoke composite engineering company Cecence and electrification equipment supplier Brecknell Willis are studying the potential use of advanced composite materials 10 times stronger and four times stiffer than metals to lower the cost of tramway overhead electrification.
Copper contact wire would be suspended from a carbon fibre reinforced plastic catenary cable, supported by glass fibre reinforced plastic poles and support cantilevers.
Although the composite components would be more expensive than traditional materials, Atkins estimates the lower maintenance costs, longer life and ability to increase mast spacing by up to 40% could produce cost savings of £50 000 to £100 000 per kilometre. Inspection intervals could be increased from five to 15 years with a mast life of 40 rather than 25 years, producing savings in maintenance costs after seven years.
Atkins is conducting requirement, design, risk and cost-benefit analysis. Cecence is working on the design and cost for the carbon cables, and Brecknell Willis is to undertake an independent review. Subject to further approval, phase two of the project would see a demonstration installation built for testing under controlled conditions.