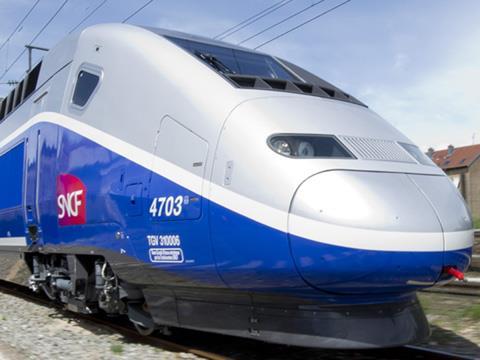 FRANCE: Noting that his government 'would prioritise the everyday transport needs of the French people without turning its back on high speed rail', Transport Minister Frédéric Cuvillier confirmed on October 23 the government's intention to build two new high speed lines under the 410 km Grand Projet Ferroviaire du Sud-Ouest.
Cuvillier's statement included details of the proposed alignment of two routes which would link Bordeaux with Toulouse and Dax. Both corridors would head south from Bordeaux before diverging at a junction termed Sud-Gironde. From there, one route would continue to Toulouse serving planned new stations at Agen and Montauban; as in Bordeaux, access to central Toulouse would be via existing tracks.
Completion of the Bordeaux – Toulouse line is planned for 2024 within a budget of €5·9bn; it would reduce the fastest Paris – Toulouse journey time to 3 h 10 min, a saving of 1 h on current timings in addition to the 50 min saving which would accrue from the opening of LGV Sud-Europe-Atlantique between Tours and Bordeaux in 2017.
GPSO's second phase would see construction of a branch from Sud-Gironde to a connection with the existing network just north of Dax by 2027 at a cost of €3·2bn. A short branch to Mont-de-Marsan is also envisaged; upon completion, Dax would be 3 h 25 min from Paris by TGV.
Cuvillier's statement also said that the high speed network would be extended to the Spanish border 'by 2032 at the latest', driven by the need to link the Iberian peninsula to the trans-European transport network and by capacity concerns on the existing line. A series of complementary studies is to be conducted analysing potential alignments for the new line and options to develop the existing railway between Dax, Bayonne and San Sebastián.
A decision whether to grant a Déclaration d'Utilté Publique covering the Bordeaux – Toulouse/Dax lines is expected in the first half of next year, following a public inquiry.