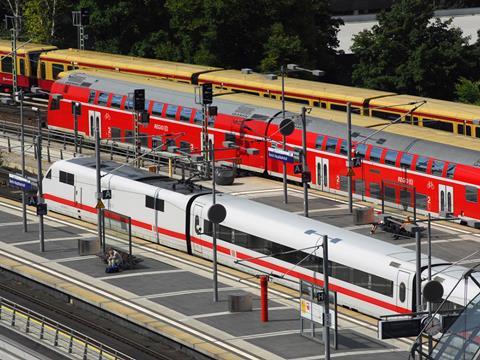 GERMANY: 'A self-critical look shows us that we did not achieve the targets we set', said Deutsche Bahn CEO Rüdiger Grube when presenting the group's 2015 annual results on March 16.
Grube said three events had a major impact on the national railway last year: 'unusually fierce' storms; the longest strike in DB AG's history, which cost €360m in revenue and €300m in EBIT; and 'the great responsibility of transporting hundreds of thousands of refugees'.
Revenues were up 1·9% to €40·5bn, but adjusted EBIT was down 16·6% to €1·76bn. Special write-downs in rail freight and non-recurring items as a result of restructuring amounted to €1·67bn, and DB posted its first net loss since 2003, of €1·3bn. Gross capital expenditures rose 2·4% to €9·3bn, primarily due to higher investment in infrastructure. Net debt rose by 7·9% to €17·5bn, which CFO Richard Lutz said was a result of 'launching the largest investment campaign in the history of DB AG'. Return on capital employed fell to 5·3%, 'significantly lower' than the cost of capital.
Grube said the long-distance passenger business 'asserted itself on the market' in 2015, with ridership up 2·2% to 132 million and passenger-km also rising. However, regional train and bus business DB Regio saw passenger-km and ridership fall 1·2% to 2·5 billion, partly owing to the rise in competitive tenders.
Grube was 'particularly pleased by our successes in international long-distance service', with traffic on routes to France, Belgium and the Netherlands up 3·5% to 5 million passengers.
Lutz said development in the DB Arriva and DB Schenker international units was 'very satisfactory', with Grube saying Arriva's successful bid for the UK's Northern franchise was one DB's 'most significant achievements outside Germany'. The franchise is expected to generate €10bn in additional revenues and take DB Arriva's share of the UK market from 14% to 22%.
Rail freight was DB's 'biggest challenge' in 2015, with volumes down 4·3% to 98·4 billion tonne-km. Many customers signed long-term agreements with other carriers during the strike and 'our rail freight revenues are still down 8% to 10% as a result', said Grube, adding 'we are doing everything we can to encourage former customers to return and also to recruit new customers'.
Business at the DB Schenker logistics arm saw a positive trend, with European land consignments up 2·9%, air freight volumes up 1·4% and contract logistics revenues up 17%. Ocean freight dropped by 2·1%.
There was an overall 1% rise in German rail traffic volumes, however the market share of non-DB operators rose from 25·0% to 27·5%; DB said this was 'testimony to the effectiveness of competition in the rail transport market'.
Looking forward, DB has launched a five-year investment plan which will see €50bn invested in Germany; €35bn of this will come from the German government and €20bn from DB's own funds. There are three elements to the strategy: restructuring the group, the 'Zukunft Bahn' quality enhancement programme which was launched in December, and the DB 4·0 digitalisation plan.
The focus is on 'quality, quality and more quality', Grube said. 'In the face of ever-fiercer competition, each of our business units will need to make major strides in terms of quality. And that is why we are putting all our efforts, throughout our entire company, into improving our quality.'
Lutz said DB faced two major structural problems: an increase competition, and a sharp increase in costs, which no longer 'correlate with our customers' willingness to pay'. Staff costs under collective bargaining agreements rose 3·4%, while energy policy 'is still giving us cause for concern'. The EEG feed-in tariff surcharge increased €50m to €150m, and with 80% of traction energy being electrical, this is making rail less competitive as the cost of diesel falls.