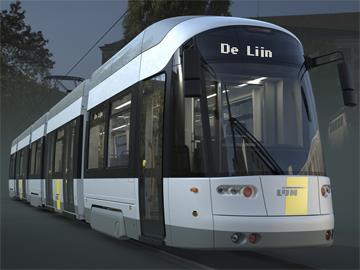 BELGIUM: Bombardier has been selected to supply 48 new Flexity 2 low-floor trams for De Lijn services in Antwerpen and Gent under a €128·6m order announced by Flemish Minister for Transport & Public Works Hilde Crevits on August 6. The largest single tram procurement placed by the regional government, the deal includes an option for a further 40 cars.
At present De Lijn operates 359 trams across three metre-gauge networks in Antwerpen, Gent and along the coast. The fleet is formed of 115 Siemens/Bombardier Hermelijn low-floor cars, 196 PCC cars and 48 BN-built Kusttrams dating from the early 1980s.
Due for delivery from early 2014, the Flexity 2 cars have been styled by Axel Enthoven. The low-floor cars are intended to increase capacity and improve accessibility, with dedicated spaces for wheelchairs, bicycles and prams. Crevits said the new vehicles would be more efficient to operate and maintain, reducing the average cost per passenger space by between 22% and 35% compared to the oldest PCC cars.
The initial tranche of 48 vehicles has been split into three sub-fleets to meet the requirements of each city.
Antwerpen will receive 28 single-ended five-module cars of 31·4 m with capacity for 54 seated and 212 standing passengers, plus 22 folding seats. It will also get 10 seven-module cars 42·7 m long, providing more capacity than the previous Hermelijn vehicles; these will carry 68 seated and 312 standing passengers, with 40 folding seats.
De Lijn needs 21 more cars to work the recently-opened Mortsel - Boechout and Deurne - Wijnegem extensions, whilst the other 17 are intended to operate the new line to Ekeren which is currently under construction. The new trams will operate on Lines 3 and 15, displacing Hermelijn cars to other routes.
Meanwhile, Gent will get 10 double-ended seven-module cars with 48 fixed and 24 folding seats plus space for 330 standing passengers; these cars will operate on Line 1 where additional capacity is needed.
The option is split into a further 10 short and 14 long cars for Antwerpen plus 16 long double-ended cars for Gent. If exercised, it would enable De Lijn to withdraw its remaining PCC bogie cars.