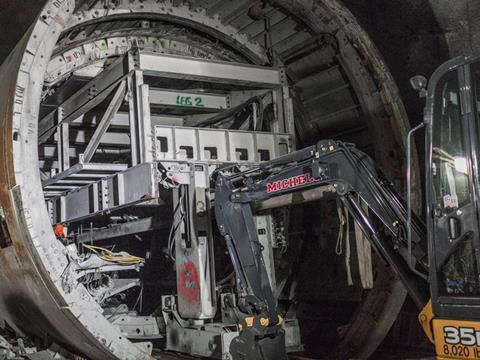 USA: New York Metropolitan Transportation Authority announced on April 16 that it has awarded two East Side Access fit-out contracts.
Frontier-Kemper Constructors is to build permanent structural concrete lining in the newly excavated tunnels north of Grand Central Terminal between 50th Street/Park Avenue and 63rd Street/Second Avenue. The contractor will also rehabilitate the segment of the 63rd Street tunnel under the East River, completed in the 1970s. The $294·2m contract also covers underground work on two ventilation shafts, at 50th Street and 55th Street.
The second contract was awarded to Tutor Perini Corp and is valued at $333·6m, with options increasing the value to $550·4m. This covers the communications system and infrastructure support for the low-level concourse at Grand Central Terminal, including telecommunications, digital signage, ventilation, drainage, lighting, and fire detection and protection.
The East Side Access project will allow Long Island Rail Road services to run into a new concourse being built beneath Grand Central Terminal.