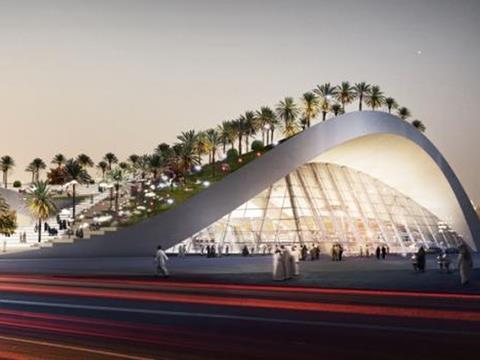 SAUDI ARABIA: Riyadh metro project promoter ArRiyadh Development Authority has selected a design by Gerber Architekten of Germany for Olaya station, one of three major stations intended to create landmarks which 'will transform Riyadh streets as they become the most visible elements of the city's new world-class public transport system'.
The design has been developed in partnership with structural engineers Bollinger & Grohmann and specialist companies BW-Engineers, Thurm & Dinges, DS-ABT, Karajan, Design Fire Consultants and Sweett Group.
Located at the intersection of lines 1 and 2 between Olaya Street and King Fahad Road, close to the Kingdom Tower and King Abdullah Road, the station will feature elevated public gardens and an undulating roof inspired by desert sand dunes. A large, open entrance hall will allow visitors to see across all four storeys of the building, including the two metro lines, a mezzanine level with shops and food halls and an open concourse housing the ticket barriers.
Planned Riyadh metro network
Line
Route
Length, km
1 Blue
Olaya Street - Batha Street - Al Hayer Road
39
2 Green
King Abdullah Road
25
3 Red
Madina Al Munawra - Amir Saad bin Abdul - Rahman Al Awal Road
40
4 Orange
King Abdullah Finance District - King Khaled International Airport
30
5 Yellow
King Abdul Aziz Road
13
6 Purple
Abdul Rahman bin Ouf Street - Shaikh Hassan bin Hussain bin Ali Street
30