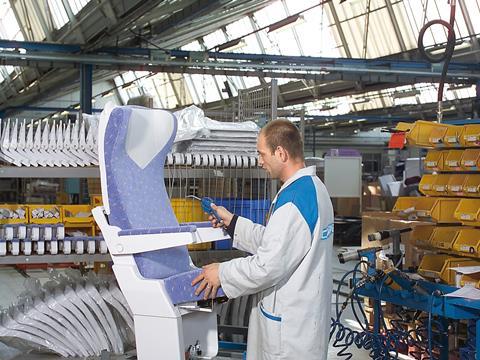 FRANCE: Equistone Partners Europe and French state investment agency Bpifrance announced on January 20 that they were participating in a €10m capital increase for the holding company that controls Compin, enabling the latter to acquire Spanish seating manufacturer Fainsa.
This is the first investment made by Bpifrance via the Croissance Rail fund, established in 2013 to encourage the growth of French suppliers in both the domestic and export markets
'This operation enables Compin to change in scale to achieve a global turnover of around €100m, a workforce of around 560 staff and four production sites in Europe', said Compin President Pierre Sainfort. 'Above all, it enables Compin to become a solid medium-sized company, offering a complete and diversified product portfolio in transport seating and rail vehicle interiors'.
The acquisition of Fainsa, which has a turnover of €32m, is expected to increase Compin's presence in the Spanish market, as well as in the UK and Germany. Compin itself has a turnover of €57m.
'We are delighted with this first investment by the Croissance Rail fund', said Bpifrance Executive Director Bertrand Finet. 'In partnership with other investors, our aim is to assist the development of small and medium-sized French railway suppliers so that they become European leaders in their particular market sector'.