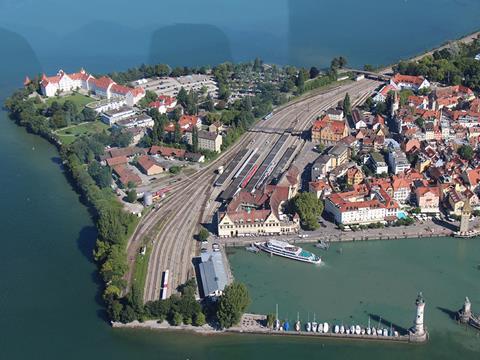 GERMANY: Bayern railway authority BEG and Baden-Württemberg's Ministry of Transport have jointly selected Go-Ahead as the winner of the E-Netz Allgäu operating contract.
The contract award announced on August 3 following a European tender covers the operation of around 2·6 million train-km/year on the München – Buchloe – Memmingen – Kißlegg – Hergatz –Lindau route, which is currently operated by Deutsche Bahn. Services will be provided using a fleet 22 four-car Stadler Flirt 3 electric multiple-units.
The contract will run for 12 years from the end of 2021. It was originally envisaged that it would start in December 2020 to align with the scheduled completion of electrification between Geltendorf, Memmingen and Lindau, but there were delays to the tendering procedure.
The contract will require high standards of punctuality, cleanliness and customer service, BEG said. There would be an increase in services, with a two-hourly stopping service and two-hourly semi-fast trains, cutting the fastest journey time from Memmingen to München by around 30 min. There will be more seats provided in the morning peak.
This is the fourth German operating contract won by the UK-based Go-Ahead, which is scheduled to begin operating Stuttgart Netz Lot 1b and Lot 1c services in June 2019 and Netz 3A Murrbahn services from December 2019.
'We are delighted to have been awarded this important regional route', said CEO David Brown. 'Our growing local team continues to look for opportunities in the region as part of our strategy to build a long-term German transport business. This network complements our existing contracts in the region and builds on our desire to provide end-to-end journeys including through our stake in German electric car sharing business, Mobileeee.'