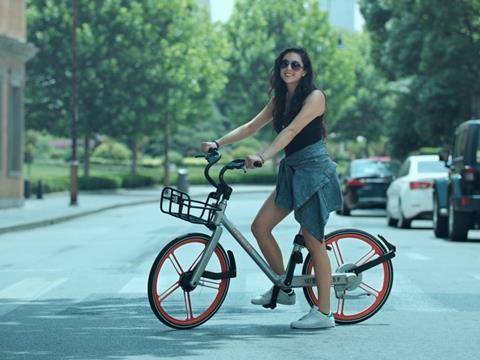 UK: A six-month cycle-hire pilot in central Manchester and Salford will start on June 29.
Mobike, which currently runs cycle-hire programmes in China and Singapore, is supplying 1 000 bikes. These will be equipped with smart locks that will allow them to be picked up and dropped off at any legal cycle parking location rather than at dedicated docking stations.
Cycles can be hired through a smartphone app that can locate available bikes using GPS mapping and unlock one for use by scanning a QR code on the bike. Payment is through the app, with users charged per 30 min period.
Hire cycles will initially be available at popular sites such as railway stations and university campuses. Mobike will analyse usage data to redistribute them to meet user demand. The project is receiving no public funding.
'The cities will become a showcase for the urban transformation that is possible when cycling usage rises, and city planning leverages smart data', said Mobike UK General Manager Steve Pyer. 'We are already in talks with a number of other cities around Europe, and are sure the successful pilot will be the first of many partnerships, allowing us to make cycling the most convenient and affordable choice for those in cities all around Europe.'
'We're conscious that our city centre is a complex and busy area already, so TfGM has been working hard to establish a voluntary code of working with Mobike to make sure the service operates in a way that doesn't inconvenience other road users, pedestrians or city centre traders', said Mayor of Greater Manchester Andy Burnham.