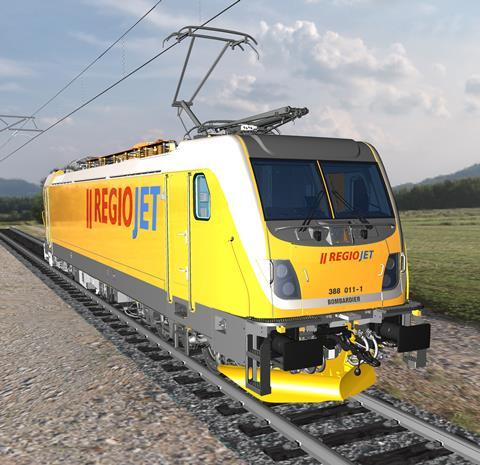 CZECH REPUBLIC: Expanding independent operator RegioJet has ordered 15 Bombardier Transportation Traxx MS3 multi-system electric locomotives, with an option for more.
The contract announced on September 3 follows RegioJet's 2017 order for eight Traxx MS2e locomotives, which entered service last year. The additional locos are intended to work domestic routes including the tendered Brno – Ostrava – Bohumín inter-city service which the operator will take over from ČD in December. They will also be used on cross-border operations such as the Praha – Wien trains which are to be extended to Budapest from June 2020.
According to RegioJet Operations Director Jiří Schmidt, 'these new locomotives will enable us to expand our business offering to our customers across the Central and Eastern Europe region', offering 'increased efficiency and lower operating costs'. Noting that 'the four MS2e locomotives we operate now are a reliable and proven part of our fleet', he explained that RegioJet had decided to standardise its fleet of multi-system locomotives, which currently includes five Class 193 Siemens Vectron MS locos leased from ELL.
The RegioJet contract is the first to incorporate Bombardier's online spare parts ordering tool, which includes delivery commitments intended to reduce the need for operators to maintain their own parts inventory.
'RegioJet is the first passenger operator to order our innovative Traxx MS3 locomotive', said Bombardier's Business Development Manager for Eastern Europe, Tomas Holy. 'Our Traxx 3 platform has already shown its outstanding performance in commercial operation in Italy since the beginning of this year. We are excited to introduce these vehicles in passenger service, where the distances are twice as high as in freight transport and punctuality is of paramount importance.'