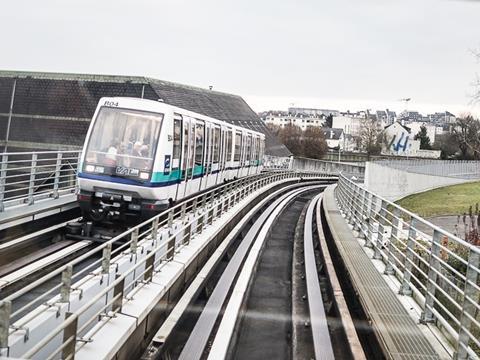 FRANCE: Rennes Métropole renewed its contract with Keolis for operation of the city's public transport on October 19. The seven-year contract will start on January 1 2018 and is expected to generate total revenue of €960m.
Keolis has operated the city's STAR transport network since 1998, and plans to increase its staff in the city from 1 000 to 1 150 over the new contract term.
A target has been set to increase passenger numbers by 36% from 82 million to 112 million passenger-journeys per year by 2024. It is envisaged that the automated metro will be responsible for 60% of public transport passenger-journeys once the second line opens in 2020. The 14 km Line B is forecast to carry 113 000 passengers per day.
Metro stations will be fitted with ticket gates as part of a ticketing upgrade across the network due to take place in 2019. Contactless ticketing is to be introduced based on the technology from the Korrigo multimodal smart card in Bretagne.
Rennes Métropole decided in 2015 to stop purchasing diesel buses. It plans to trial eight Bolloré electric buses in 2018-20, ahead of a transition from diesel to electric for its entire bus fleet as well as the Handistar accessible minibus.
To be launched in March 2018, a new version of the STARMobilités app will include car-sharing service, as well as non-transport information such as weather forecasts.
Bicycle hire is set to expand with 700 bicycles and 1 800 electric bikes available for yearly rental. A customer centre is to be set up for cycle-related services, including maintenance for personal bikes. There will also be a mobile version inside a converted bus.