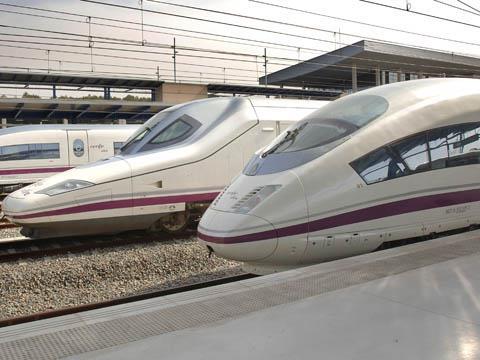 SPAIN: Presenting her department's 2014 budget to the lower house of parliament on November 12, Development Minister Ana Pastor said rail would account for €8·54bn of the €17·31bn to be spent next year. Total investment by the Ministry of Development would be €8·98bn, of which rail would receive €4·57bn or 51%.
High speed line spending totalling €3·19bn would target projects nearing completion, and €1·08bn would be provided for the route between Madrid and of Galicia. The Mediterranean Corridor programme is to receive €1·01bn, including €606m for high speed and €306m to provide 1435 mm gauge for freight on existing routes from Castellbisbal on the outskirts of Barcelona to Murcia and Cartagena.
Extending high speed infrastructure north from Valladolid to the regions of León and Asturias would receive €373m, and the connection to the Basque Country €377m. Spending of €199m is planned on the route from Madrid to Extremadura and the Portuguese border.
A total of €1·38bn has been budgeted for investment in the conventional network in 2014, including rolling stock. Pastor highlighted the €63m that the government is to provide for renewals on the Palencia - Santander route, as well as the €35·1m for electrification between Medina del Campo and the Portuguese border. Suburban networks are to receive €121m, including €72m for Barcelona, €24m for Madrid and €15m for Valencia, while studies continue for the introduction of suburban services in Galicia.
In 2014 €160m is to be spent on safety, including €50m for ETCS projects and €44·6m to remove level crossings.