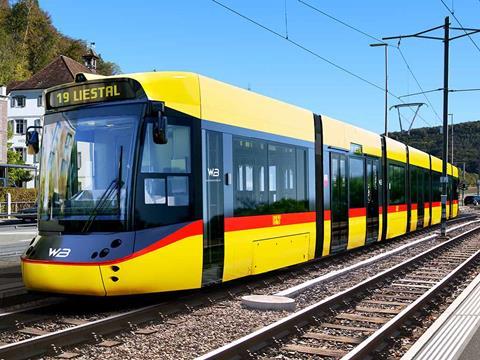 SWITZERLAND: Baselland Transport has selected Stadler to supply 10 light rail vehicles to operate on the Waldenburgerbahn line, the operator announced on October 23.
BLT is ordering the vehicles under a joint procurement with Aargau Verkehr, which is to receive eight for the Limmattalbahn project in Zürich. BLT expects to sign the contract for its 10 in April, and deliveries from Stadler's Valencia factory are due by the end of 2021, for entry into service with the December 2022 timetable change. BLT says that it is saving SFr3·3m through the joint procurement with Aargau Verkehr, with the cost of its 10 vehicles coming to SFr60m.
The vehicles have been ordered as part of a project to modernise the 13·1 km single-track line from Liestal to Waldenburg, which includes regauging it from 750 mm to metre gauge. On completion the line will become BLT Line 19.
The 100% low-floor seven-section bidirectional LRVs will be around 45 m long and 2 400 mm wide with capacity for 260 passengers including 88 fixed and 16 tip-up seats. The vehicles would run in pairs during peak times.
Each of the seven doors per side would have large circulation areas for fast boarding and alighting. The air-conditioned vehicles would be equipped with a passenger information system and have a top speed of 80 km/h. Each LRV would weigh 55·2 tonnes.
In the longer term, BLT envisages that the Waldenburgerbahn could be gradually converted to partly-automated GoA 2 operation, and it is working with Federal Office for Transport on this project.