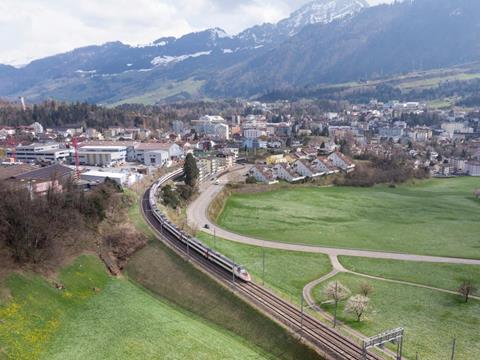 SWITZERLAND: Swiss Federal Railways CEO Andreas Meyer believes that SBB could be forced into a position where it became a residual operator if the federal government were to pursue further its policy of on-rail competition.
In an interview with Neue Zürcher Zeitung on May 29, Meyer reiterated SBB's view that the decision by the Federal Office of Transport to allocate long-distance routes to rival operator BLS did not have a legal basis and did not take account of the long-term consequences.
Meyer argued that, faced with competition from low-cost airlines and long-distance buses, it was smarter for a small railway company to join forces with other operators, citing SBB's co-operation with SNCF using the Lyria brand for services between Zürich and Paris.
To a suggestion that competition from Südostbahn with its plan to operate services over the historic Gotthard Pass route had led to a positive outcome, Meyer responded that this was 'a competition of ideas' which did not affect SBB's concession to operate long-distance services. 'We are also in favour of domestic co-operation with other rail operators in an arrangement led by SBB', he said, noting that SBB's agreement with SOB would 'not tear the concession apart'.
BLS has in the meantime affirmed that it will not include the Bern – Biel and Bern – Burgdorf – Olten Interregio routes in its planning for this year's December timetable change, despite it being allocated the two services by the Federal Office for Transport in June 2018. On May 9, BLS said it could not assume operation of the routes while a ruling on the concession was pending, adding that it would look for other opportunities to deploy the Stadler Mutz EMUs it had ordered to operate them.
SBB had appealed to the Federal Administrative Court in July 2018 against BLS being granted the two routes. This was then challenged by BLS, precipitating a legal battle that culminated in the Federal Supreme Court deciding on February 13 this year that an interim ruling by the Federal Administrative Court against BLS on November 14 last year should be dismissed. The Federal Administrative Court must now readdress the question.
BLS said that even if the Court found in its favour, there would be insufficient time to prepare and it would not be able to take over the two routes until December 2020 at the earliest.