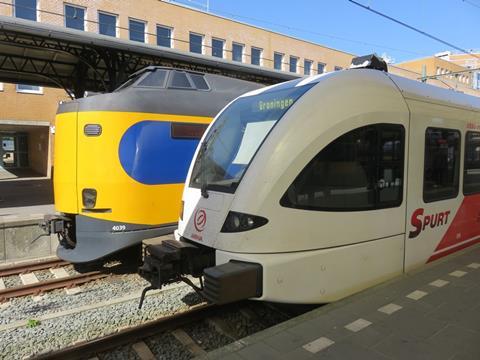 EUROPE: Irreparable damage caused to the Friesen Bridge over the River Ems when it was hit by a freight ship in in December 2015 has disrupted the EU-backed Wunderline project's ambitions to boost traffic on the regional railway corridor running east from Groningen in the northern Netherlands to Leer, Oldenburg and Bremen in northwest Germany.
The project brings together the province of Groningen, the Land of Niedersachsen, the city of Bremen, infrastructure managers ProRail and DB Netz, and the Dutch Ministry of Infrastructure & Water Management, backed by an €8·3m EU grant awarded in 2015.
Its aims include 'effectively eliminating physical border limitations', but the damage to the bridge has required the cross-border leg of services to be replaced by buses.
Replacement of the bridge will be a major task, and construction of large swing bridges is now relatively rare. Complicating the plans, a shipbuilding company is keen for the replacement bridge to have a wider span, enabling it to build larger cruise ships at its upstream yard. The shipyard is significant local employer, but concerns have been raised that the additional cost of building a wider bridge rather than a like-for-like replacement could be construed as state aid.
Wunderline now hopes that the bridge could be replaced by 2024, and points to the steady ridership which has been seen despite the use of replacement buses as evidence of high potential demand for an improved rail service.
Short-term improvements which have already been agreed include a Groningen add-on for the Niedersachsen-Ticket and the opening of a DB information point in Groningen. As well as reinstating the bridge, Wunderline's long-term ambitions include double-tracking, easing curves and signalling and platform modification works which would provide a journey time of just over 2 h between Groningen and Bremen from 2030, including a change of trains in Leer. There is a long-term ambition for through running, possible procured through a cross-border operating contract to be awarded jointly by Dutch and German regional authorities.
Wunderline's studies have identified little potential to develop freight traffic on the route, and so its focus is on passenger services. Plans include improved door-to-door travel, particularly on the German section of the route.