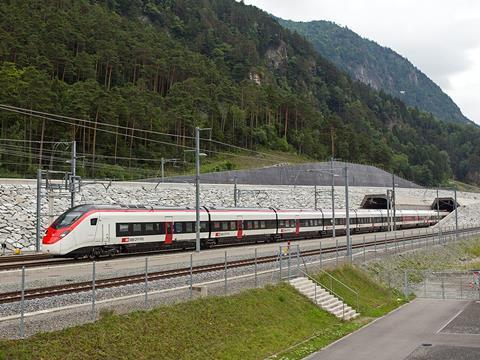 SWITZERLAND: A Stadler EC250 Giruno trainset ran through the Gotthard Base Tunnel for the first time during testing on July 2.
The manufacturer said that the test run at a maximum speed of 100 km/h had been a 'complete success', demonstrating that the design meets the standards required to operate in the 'extreme' environmental conditions found in the world's longest railway tunnel. These include pressure protection and air-conditioning able to cope with the high temperatures and humidity.
Swiss Federal Railways ordered 29 EC250 Giruno articulated trainsets in October 2014. They are expected to enter service from December 2019 on routes from Milano via the Gotthard Base Tunnel to Basel and Zürich, and later to Frankfurt.
The design is to be certified in accordance with High Speed TSI and DIN EN 15227 crashworthiness requirements. The first trainset will now be sent to the Velim circuit in the Czech Republic for further testing at speeds which be gradually increased to the future service maximum of 250 km/h.
Further test running will then be undertaken in Switzerland, Germany, Italy and Austria, the four countries where the trainsets are intended to operate.