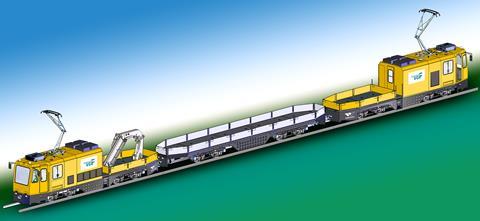 GERMANY: Frankfurt municipal transport company VGF has awarded Windhoff Bahn- und Anlagentechnik a contract to supply a three-vehicle works train for use across the city's U-Bahn and tram networks.
This forms part of a programme to modernise the current VGF works fleet, some of which dates back to the 1950s.
The train is scheduled to enter service by the second half of 2022. It will have three vehicles, with two powered driving units and an intermediate wagon. It will be possible for the driving units to operate singly or as a pair, and with or without the wagon.
The driving vehicles will be 13 m long, with four axles, an air-conditioned driver's cab with space for six people and a loading area; one vehicle will also be equipped with a crane.
While vehicles of this type are traditionally diesel powered, the ones for Frankfurt will be equipped to use electric power, with an auxiliary diesel unit for when the external power supply is not available. VGF and Windhoff will also study the possibility of using fuel cells or rechargeable batteries in addition to the diesel engines.
There third vehicle will be a four-axle wagon, 17 m long with a 15·5 m loading area for the transport of rails up to 15 m long.
The crane will be able to lift rails from the transport wagon and lay them on the trackbed within the 3·9 m clearance available under the overhead cables.