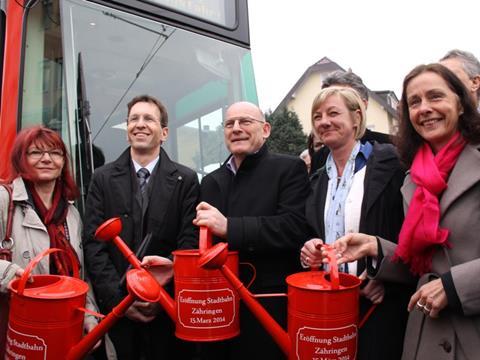 GERMANY: A northern extension of Freiburg's metre-gauge tram route 5 from Reutebachgasse to Zähringen opened on March 15, six weeks ahead of schedule.
'For the first time in the city's history of over 100 years, light rail goes beyond the city limits — a sign of how highly integrated light rail is in the transport system, and these are the building blocks of good regional co-operation', said Freiburg Mayor Dieter Salomon.
The extension runs along a mostly segregated and grassed alignment, with a 335-space park-and-ride site and a covered bike-and-ride facility at the new terminus.
Groundbreaking for the 1·8 km extension with two intermediate stops took place on 26 July 2011. It is part of ZRF's 'northern light rail' and 'Breisgau-S-Bahn integrated regional transport' projects.