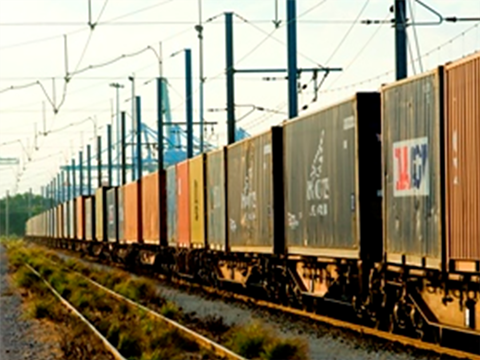 FRANCE: Plans to relaunch the rail freight business are now being finalised in preparation for formal presentation to the government by the end of this month. Drawn up by the Fret Ferroviaire Français du Futur alliance (4F), the proposals aim to double rail's share of the freight transport market in France to 18% by 2030.
Highlighting the rail freight sector's 'robust' performance and its efficiency in providing essential transport services during the height of the Covid-19 pandemic, 4F says that the proposals are also designed to help ensure economic recovery and to reduce carbon emissions.
Asserting that rail freight offers huge opportunities for technical progress with the potential for improved performance, 4F anticipates taking maximum advantage of rail's environmental credentials. It is calling for action on three fronts:
by the operators who 'are ready to innovate and take the commercial risk of recapturing freight in France';
by infrastructure manager SNCF Réseau ― which 'has the means available to invest in renovation of the network' ― through giving priority to service quality;
by the state, which should ensure decarbonisation of the transport sector and support competition within the rail business as part of a more sustainable logistics chain.
Members of 4F are finalising proposals for actions judged essential on all three fronts in 2021 in order to ensure that the sector remains 'dynamic' and efficient in the medium term. At the forefront of the concept is the tripling of intermodal services embracing rail, road, maritime transport and inland waterways. This, it believes, will help industrial development and 'relocalisation' of industries that favour local employment.
4F wants government to increase the level of support for intermodal transport both in the short and long term, to offer help for the wagonload business and to increase support for track access charges. Further, it is calling for infrastructure modernisation, rehabilitation or safeguarding of feeder lines and industrial branches, as well as a range of other measures. It believes that government action along the lines suggested would 'send a strong political signal that the markets are waiting for'.
4F consists of rail freight operators Fret SNCF, DB Euro Cargo Rail, VFLI, Europorte, RegioRail, Millet Rail and intermodal companies Novatrans, Naviland Cargo, T3M, Froidcombi, VIIA, Forwardis and the various Opérateurs Ferroviaires de Proximité, as well as a number of organisations including Association Française du Rail, industry grouping FIF, the French wagon keepers association AFWP and the French Association of Freight Transport Users AUTF.