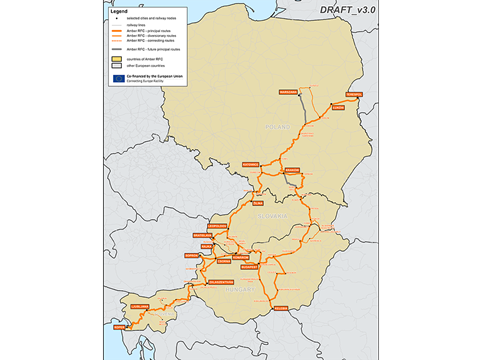 EUROPE: The Amber Rail Freight Corridor has become operational, as the first new corridor to be established since the original nine defined in 2010.
Prearranged trains paths are now available for the 2019-20 timetable year through the corridor's 'one stop shop'.
Designated as RFC 11, the Amber RFC is a joint initiative by Hungary, Poland, Slovakia and Slovenia, bringing together infrastructure managers MÁV and GySEV, PKP PLK, ŽSR and SŽ-Infrastruktura as well as Hungarian capacity allocation office VPE.
It is designed to facilitate the operation of competitive cross-border rail services between industrial centres and intermodal terminals, including the Adriatic port of Koper, with efficient connections to Eurasian transit routes at the borders with Belarus and Serbia.
It also closes gaps in the original network of EU corridors to help to increase the resilience of the network as a whole.
An Alpine-Western Balkan RFC which would link Austria with the Turkish border is currently under development.