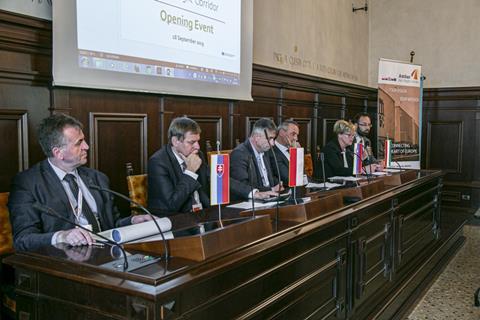 EUROPE: An event was held in the Slovenian port of Koper on September 18 to mark the launch this year of the Amber Rail Freight Corridor, the first RFC to be established since the original nine defined in 2010.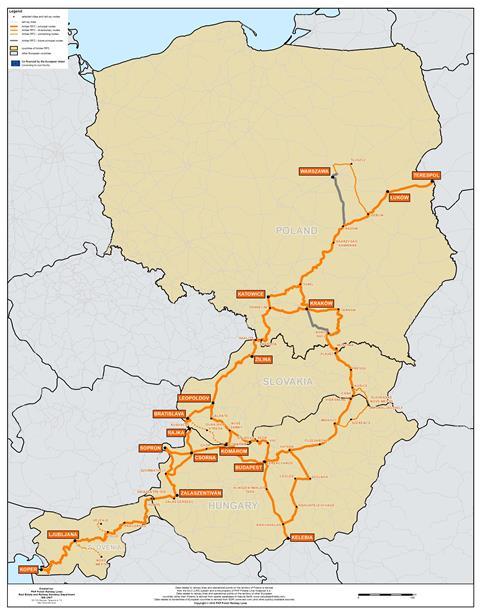 The corridor is a joint initiative by Hungary, Poland, Slovakia and Slovenia, bringing together infrastructure managers MÁV and GySEV, PKP PLK, ŽSR and SŽ-Infrastruktura as well as Hungarian capacity allocation office VPE.
Named after the historic trade in fossilised tree resin from the Baltic region, the Amber RFC starts at the Adriatic port of Koper and runs through central Europe. One branch runs to Terespol on Poland's border with Belarus, offering connections to the Trans-Siberian corridor, and another branch to Kelebia on the Hungarian border with Serbia for onward connections to the Balkans.
Speakers from the transport ministries of Slovenia and Hungary welcomed the launch, saying it was the first corridor to be established under an the initiative led by EU member states. This bottom-up process began with market anaylsis from 2013, and a letter of intent was signed in March 2016.
András Nyíri of the Railway & Terminal Advisory Group highlighted the value of providing a permanent international platform to where customers can discuss cross-border freight issues, and welcomed the management board's adoption of an action plan for short and long-term measures to remove bottlenecks and improve performance on the corridor.
Although it is the 10th corridor to become operational, it is numbered RFC 11; RFC 10 is a planned Alpine-Western Balkan RFC which would link Austria with the Turkish border.