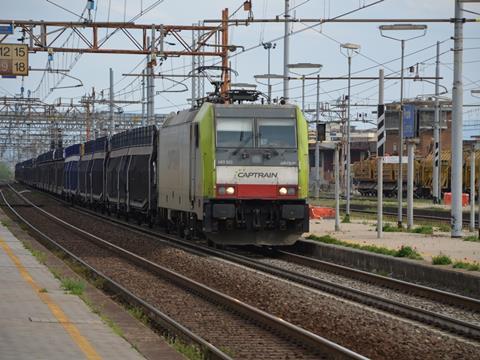 ITALY: Work will begin in October to modernise the 80 km direttissima between Bologna and Prato, north of Firenze.
The fast line between the two cities was inaugurated in 1934 and forms part of pan-European Corridor V. Since December 2009, express passenger services between Bologna and Firenze have mostly been rerouted via a purpose-built high speed line, leaving the direttissima as a strategic corridor for freight.
During the €300m upgrading programme, RFI plans to enhance the route's loading gauge to accommodate rolling motorway trains, as well as high-cube intermodal traffic. The route will also be cleared for 750 m long freight trains. The work is expected to be completed by mid-2022.
Under the terms of an agreement signed in late April by RFI and the regions of Toscana and Emilia-Romagna, 40 km of tunnels through the Appenine mountains will be enlarged, track will be lowered and the overhead electrification modified.
RFI is also taking the opportunity to refurbish intermediate stations along the route, with enhanced passenger amenities to be provided at Pianoro, Monzuno, Grizzana, San Benedetto Val di Sambro Vernio and Vaiano. Platforms will be raised to 550 mm, while Monzuno and Vaiano will be remodelled as part of work to accommodate longer freight trains.
The upgrading work is to be undertaken in phases from north to south starting with the 24 km section between Pianoro and San Benedetto Sambro-Castiglione Pepoli. RFI says that it expects trains to continue running during the upgrading, partly using single line working.