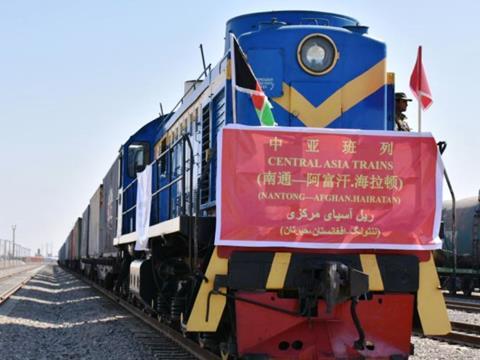 AFGHANISTAN: The first through freight train from China was formally welcomed into the northern rail port at Hairatan on September 7, although it was reported to have arrived a day earlier following a 3 000 km transit taking 14 days.
With the locomotive carrying a headboard proclaiming Central Asia Train: Nantong – Afghan – Hairatan, the 45-wagon train had been dispatched from Nantong in eastern China's Jiangsu province on August 25, carrying 84 containers.
The welcoming ceremony was attended by the former governor of Balkh province, Mohammad Ishaq Rahguzar, and the Chinese ambassador to Afghanistan.
Azarakhsh Hafizi, Head of International Relations at the Afghan Chamber of Commerce & Industries, said 'the inauguration of a cargo train service linking China to Afghanistan marks the revival of the ancient Silk Road'. As part of China's One Belt, One Road initiative to improve Asian transport connectivity two trains are scheduled to run each month on the route via the Alataw Pass, Kazakhstan and Uzbekistan.
Noting that rail offered a 15-day transit time compared with two or three months by sea, Hafizi felt the service would 'open up new opportunities for Afghanistan's commerce and economic activities'. Government spokesman Javid Faisal pointed out that the rail link would reduce the country's dependence on Gwadar port in Pakistan.
There are hopes that traffic levels will increase sufficiently to support the operation of a weekly train by the end of this year. The westbound services are expected to carry Chinese-made mechanical equipment, IT products and clothes to the land-locked country, returning with Afghan products such as marble, saffron, dried fruit and carpets.
Construction on the cross-border rail link between Khaaf in Iran and Herat in western Afghanistan has reached the border; a ceremony was held on September 7 to mark the start of tracklaying on the Afghan side.