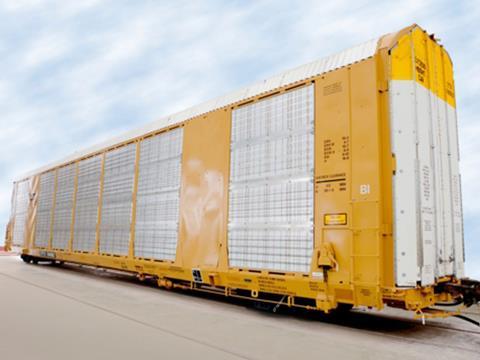 USA: The Multi-Max car-carrying wagon incorporating an adjustable deck enabling conversion from two to three levels to suit the type of vehicle being carried was unveiled by The Greenbrier Companies on May 29.
The wagon is compatible with existing bi-level and tri-level fleets, so operators do not need to manage Multi-Max separately from other wagons. The decks can be adjusted in 5 h without being removed, a sealed end-door protects against theft and vandalism, and door edges are designed to reduce the risk of damage in transit.
'Greenbrier designed Multi-Max to help railroads meet the changing requirements of today's automobile manufacturers', explained William G Glenn, Senior Vice-President & Chief Commercial Officer. 'Consumer preferences for automobiles are less predictable, causing automakers to build factories that can quickly transform from manufacturing large vehicles like SUVs and light trucks to smaller vehicles'. Multi-Max's adjustable decks mean operators would 'always have the right mix of equipment ready'.
Greenbrier says that railways carry 70% of all new vehicles produced in North America, and Mexico's growing share of the US automotive market is increasing rail transport demand. Since September 2012 Greenbrier has won orders to supply 2 100 wagons for the automotive industry, and it says independent industry forecasts estimate that more than 10 000 units could be delivered over the next three years.