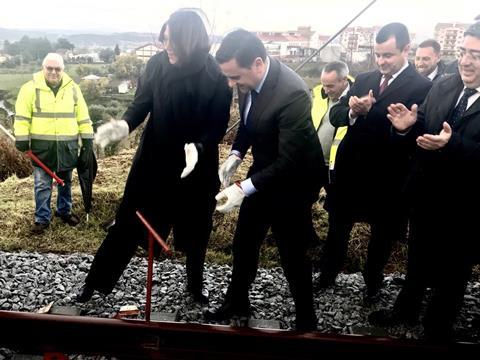 PORTUGAL: Minister of Planning & Infrastructure Pedro Marques and European Transport Commissioner Violeta Bulc participated in a ceremony on March 5 to mark the official start of work to upgrade the 46∙5 km Covilhã — Guarda route, closed to traffic since 2009.
With 10 km already completed by Infraestruturas de Portugal, under a contract worth €51∙9m a joint venture of Ramalho Rosa Cobetar and Conduril is to undertake track renewals on 36 km and refurbish six bridges. The route is to be electrified at 25 kV 50 Hz and equipped with GSM-R, with automatic level crossing equipment to be installed at 18 locations and one level crossing abolished.
The work forms part of the North International Corridor project, running from Pampilhosa on the Lisboa — Porto main line to Vilar Formoso on the Spanish border. It aims to double freight capacity from 14 to 25 trains/day, while increasing train lengths from 500 m to 750 m. A total of eight level crossings are being abolished and the route resignalled with ETCS Level 2.
The Covilhã — Guarda component includes the construction of 1∙5 km of single track to provide an east to west connection between the Beira Alta and Beira Baixa routes, avoiding the need for train to reverse at Guarda. This will provide a diversionary route for international services during the corridor upgrade.
The reopening programme is costing a total of €77m, of which the European Union is providing €61m and the Portuguese government €16m. Both the North and South international corridors from part of the Ferrovia 2020 plan to upgrade 1 200 km at a cost of €2bn. According to Infraestruturas de Portugal, the value of work in progress or being tendered has increased from €46m in the first half of 2016 to €655m in the first half of 2018, with €102m or 5% of the Ferrovia 2020 total to be completed by the end of this year.