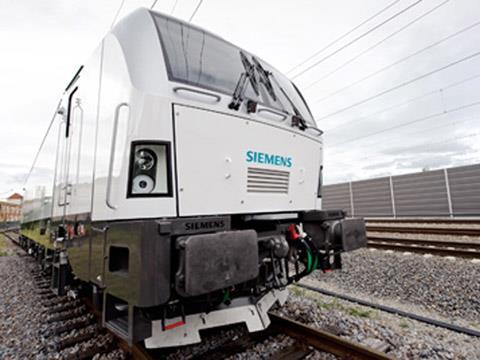 POLAND: Siemens announced on December 5 that it had received an order to supply 23 Vectron electric locomotives to freight operator DB Schenker Rail Polska SA. According to the manufacturer, 'this is the largest order that Siemens has received so far' for its modular Vectron family.
'This is already the third order for our newly-developed locomotive platform', said Joachen Eickholt, CEO of the Rail Systems Division at Siemens. 'A particularly pleasing aspect is that we were also able to secure an option for a further 13 locomotives.'
The value of the order is, according to Siemens, 'in the high double-digit million range'. The locomotives will be equipped for operation under 3 kV DC only. Under the contract, DB Schenker Rail Polska will be able to order spares by internet for delivery within 24 h, 'thus ensuring a high level of availability at the customer's depot'.
Deliveries of the new locomotives were due to commence 'immediately' for completion by 2015. The Vectron received certification for operation on the Polish network in September 2012.