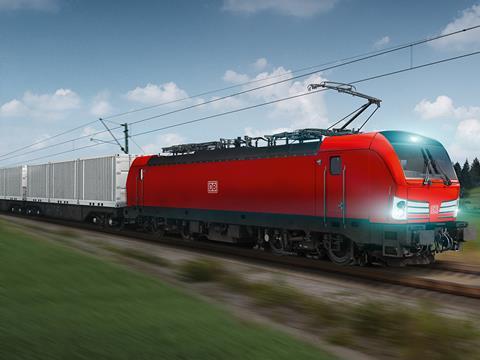 EUROPE: The signing of a framework agreement for the supply of up to 100 Vectron multi-system electric freight locomotives with a €250m firm order for an initial 60 was announced by Deutsche Bahn and Siemens on August 4.
The first five of the ETCS-equipped 6·4 MW locomotives with a maximum speed of 160 km/h are expected to enter service with DB Cargo in December 2017, with the remaining 55 in the firm order to be delivered from Siemens' München-Allach plant in the second half of 2018.
DB Cargo intends to deploy the locomotives on Rhein-Alpine corridor routes from the Netherlands to Italy via Germany, Austria and Switzerland, and they will also be used in Belgium from 2020.
'The multi-system locomotives will make it possible to operate a train from the Netherlands to Italy without changing locomotives', said Siemens Mobility CEO Jochen Eickholt. 'This will make European freight transport fast, efficient and environmentally friendly.'
The framework contract 'marks a further milestone in the programme to expand and modernise our European locomotive fleet that has been underway for four years', said DB Cargo CEO Dr Jürgen Wilder. 'This is a key component in our growth strategy for interoperable European rail freight transport.'
'Thanks to the new locomotives as well as other planned investments in modern wagons and additional operating staff, we are creating the optimal conditions to be able to shift more transport from road to rail,' said Berthold Huber, DB management board member for Passenger Transport and interim member for Freight & Logistics. 'We are not only capitalising on the current increase in demand and the reorganisation of DB Cargo as part of the Zukunft Bahn programme, we are also translating the potential of the master plan for rail freight transport and much lower track access charges into better services for our customers.'