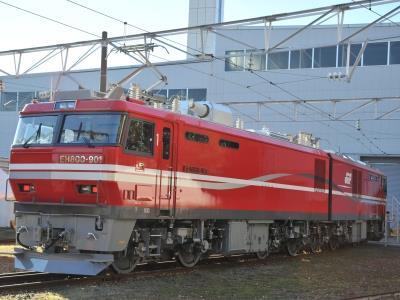 JAPAN: The first of 20 dual-system electric locomotives being built by Toshiba for national rail freight operator JR Freight was unveiled at the manufacturer's Fuchu factory in Tokyo on November 27.
The Series EH800 Bo-Bo+Bo-Bo locomotives are intended to haul 1 067 mm gauge freight services between Honshu and Hokkaido through the Seikan Tunnel. At present, the world's longest undersea rail tunnel is electrified at 20 kV 50 Hz, but the voltage is due to be raised to 25 kV in 2014 ready for the introduction of Shinkansen services to Hakodate over the mixed-gauge track now being installed.
The twin-section Series EH800 locomotives are 25 m long and weigh 134·4 tonnes. Rated at 4 MW, they will have a maximum speed of 110 km/h. They will also be equipped with Digital ATC signalling equipment being installed in the tunnel to control Shinkansen operations, as well as the ATS-SF and ATC-L systems used on conventional lines.
The dual-system locos will operate between the freight terminals at Higashi-Aomori and Goryoku via the Kaikyo Line and the Seikan Tunnel, replacing the Class ED79 and EH500 locomotives currently used by JR Freight to haul freight and overnight sleeping car services on this route.
Following extensive testing of the prototype, series production is expected to begin in the fourth quarter of 2013 with deliveries running into 2014. Including new maintenance facilities, the total investment is put at around ¥19m.