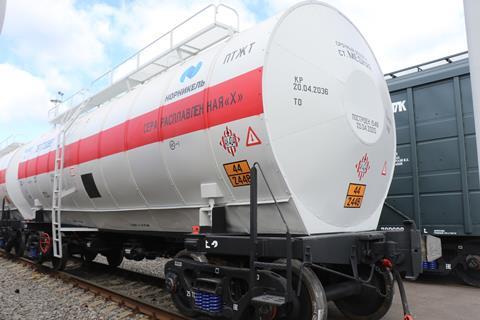 RUSSIA: Ivanomorsk TPK has taken delivery of a batch of UWC TikhvinChemMash molten sulphur wagons for use by Norilsk Nickel. This follows the delivery last year of wagons for sulphuric acid traffic.
UWC said the Type 15-6913 molten sulphur wagon was one of the most technologically sophisticated designs in its portfolio, featuring thermal insulation, a double casing of stainless steel, and an air gap outside the tank shell to enable uniform heating of the load with hot air generated by tubular heating elements.
The 25 tonne axleload bogies provide the wagons with a capacity of 72 tonnes or 44 m3; they are designed for maintenance intervals of up to 1 million km or eight years and a life of 32 years.