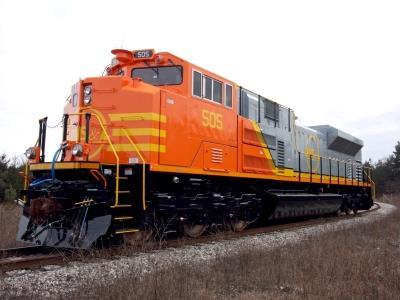 NORTH AMERICA: Electro-Motive Diesel announced on January 28 that it had won two more orders to supply its 4 300 hp SD70ACe locomotive to operators in Canada and Mexico.
Quebec North Shore & Labrador has ordered a further five locomotives for delivery from August, augmenting a build of seven that were delivered last year. These are used to haul 20 000 tonne iron ore trains on QNS&L's heavy-haul route in northeast Canada, with provision for single-person operation. The locomotives will incorporate EMD's winterisation package to cope with the region's harsh winter climate, radial bogies and the latest Q-cab to ensure comfort and safety for the driver.
Ferrocarril Mexicano has signed an agreement with EMD for 44 locomotives, which according to EMD is the first order for new motive power placed by Ferromex since 2006. Delivery of these locos is expected to start in April 2011, bringing the railway's SD70ACe fleet to 59. The Ferromex locomotives will also feature radial bogies and the EMD Q-cab, and will have provision for distributed-power operation.
Ferromex CEO Rogelio Vélez said the 44 new locomotives would be 'a very positive addition' to the fleet, noting that the previous batch of SD70ACes had demonstrated 'very high and consistent performance and fuel efficiency'. He said the new locos would help Ferromex cope with very significant volume increases, with traffic in 2010 close to 20% up on 2009 and 12% higher than the record volume achieved in 2008.
As the SD70ACe locos meet EPA Tier 2 emissions standards, Ferromex will be able to use them to operate through trains across the border into the USA.