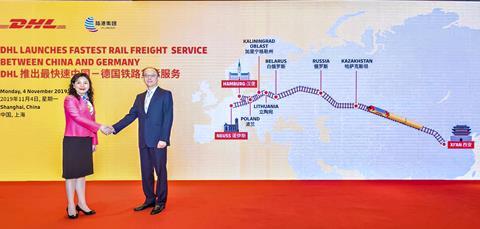 INTERNATIONAL: In response to growing demand for rail freight services between Europe and Asia, DHL Global Forwarding has launched what it says is be the fastest rail connection between China and Germany. It has also opened three additional Rail Competence Centres at Le Havre, Felixstowe and Genova to manage its freight operations.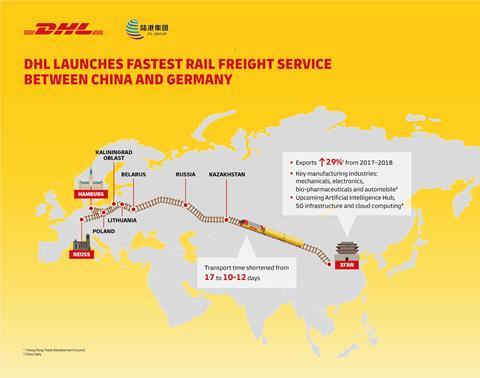 The service between Xi'an, Hamburg and Neuss which was launched on November 4 has been set up in co-operation with Xi'an International Inland Port Investment & Development Group. It is operated in partnership with China Railway, Belintertrans, RTSB and UTLC Eurasian Rail Alliance.
The service offers a transit time of 10 to 12 days on a 9 400 km route through Kazakhstan, Russia, Belarus, Lithuania and Russia's Kaliningrad exclave. Shipments enter the EU near Braniewo in Poland, then continue to Hamburg and Neuss near Düsseldorf. CEO of DHL Global Forwarding China Steve Huang said this route was chosen because traffic through the Mamonovo–Braniewo border crossing is smoother than on other routes.
Thomas Kowitzki, DHL Global Forwarding's Head of China Rail, Multimodal Europe, said the company has seen 'a substantial increase in rail freight volumes along the New Silk Road from China to Europe and vice versa', with rail becoming increasingly attractive thanks to its 'cost-effectiveness, short transit time and lower CO2 emissions compared to other modes'.
However, he felt that rail users 'require the real operational expertise' that DHL Global Forwarding offers through its network of Rail Competence Centres. These co-ordinate the end-to-end process including collection, customs clearance, shipment tracking and road or rail transport to the final destination.