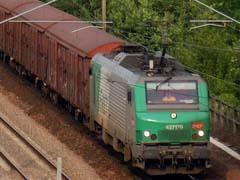 FRANCE: Visiting the port of Bonneuil-sur-Marne on April 16, Prime Minister Eduard Phillippe, Environment Minister Nicolas Hulot and Transport Minister Elisabeth Borne announced a series of measures to improve the efficiency and competitiveness of SNCF's rail freight business.
The package includes increased support for intermodal transport and a 'remission' of track access charges, which the government said were 'suffocating' rail freight. SNCF has been instructed to draw up a business plan for returning its freight business to profitability through a combination of increased traffic, better quality of service, reduced overheads and more digitisation.
Reiterating plans to invest '€10m per day for 10 years' in the national rail network, the ministers emphasised that some of this would be dedicated to upgrading the country's rail freight corridors, where infrastructure improvements would facilitate the operation of longer trains. Other changes would include the provision of better paths for freight trains and a more robust traffic management policy.
SNCF announced on the same day that it was planning to recapitalise Fret SNCF to ensure a sustainable business that could 'operate according to economic and financial market rules'. By mid-2020 Fret SNCF will be restructured as a wholly-owned subsidiary of SNCF Mobilités. This is reportedly necessary to meet a requirement for financial transparency under EU railway directives, following a ruling last December, although the railway unions have expressed concerns that it could open the way to partial privatisation.
Fret SNCF had been recapitalised in 2005 with an injection of €1·5bn of public money approved under EU state aid rules in conjunction with commitments to open up the French rail market to competition. Since then it has accumulated a further €4·3bn of debt, reporting a loss of €120m in 2017, despite cutting the number of employees from 15 000 to 6 000.
Meanwhile, the government's railway reform legislation is currently being debated in the National Assembly, including plans to convert SNCF from a public service 'EPIC' to a joint stock company. The first reading for the legislation had been approved on April 11 by 58 votes to 28, with the second reading expected to be voted on April 17.