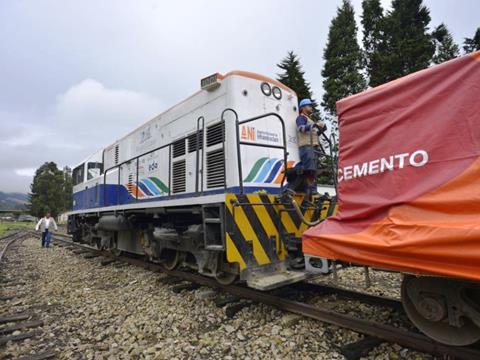 COLOMBIA: Commercial freight trains resumed operation on two sections of the country's Red Férrea de Atlantico on May 8, following an extensive state-funded rehabilitation programme.
According to the head of the national infrastructure agency Dimitri Zaninovich, the government has invested US$420m to revitalise 876 route-km linking Bogota, Belencito, La Dorada and Chiriguná. The 914 mm gauge lines had been out of service since being damaged by severe winter weather in 2010. The rehabilitation has included work on the formation, track and train control systems.
Rehabilitation has been concentrated on two sections of the 1 493 km network. The southern portion, amounting to 318·3 route-km, covers the Facatativá – Bogotá – Belencito main line and the branch from La Caro to Zipaquirá. This section had been used by a limited passenger service of six trains each way per day between Bogotá and Zipaquirá, carrying students on weekdays and tourists at weekend; ANI said the service had handled 456 000 passengers last year.
The rehabilitated Bogotá - Belencito line linking the capital with the Medellin area is expected to have a capacity of around 1·5 million tonnes of freight per year. It will initially be used by the Argos cement company to transport an average of 3 000 tonnes per month. This would require up to 13 trains, each replacing 13 heavy lorries carrying a maximum of 39 tonnes each.
Further north, the route from La Dorada in the Caldas region to Chiriguná in Cesar will be used by pipeline specialist Ismocol to transport materials for new oil and water pipelines that it is developing for Ecopetrol. According to ANI, this line has a nominal capacity to handle 5·5 million tonnes per year, serving ports along the Magdalena River as well as connecting to the existing line from Chiriguaná to Santa Marta on the Caribbean coast. This makes it a strategic corridor for the movement of freight from the centre of the country to the northern ports.
Announcing the resumption of commercial services, Zaninovich said 'this is great news for our country, because trains are becoming part of the connectivity we needed to have. It consolidates an operation that is efficiently connected with other transport modes such as road, river and ports. We need modern infrastructure and a focus on intermodality.' The ANI President reported that more than 13 test trains had already been operated in the two corridors, carrying cement, steel billets, containers and drinks, as well as a range of other products.