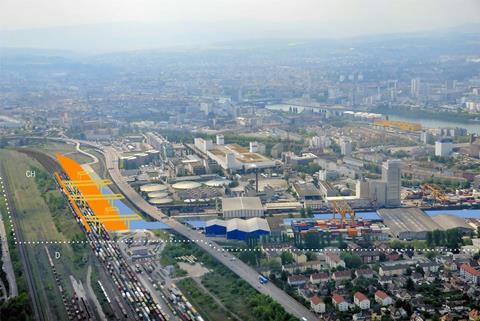 SWITZERLAND: The Grand Council of Basel-Stadt voted on February 12 to approve funding for a loan worth SFr115∙53m to enable construction of a new basin forming part of the Gateway Basel Nord trimodal terminal to go ahead.
Known as Dock 3, the 330 m long basin would allow containers to be transhipped directly from Rhein barges to trains for their onward journey through or within Switzerland and vice versa. Basel Chamber of Commerce Director Martin Dätwyler said that 'this ensures that the Basel region will remain an efficient logistics cluster in the future and can maintain its leading position in handling imports and exports'.
However, the Gateway Basel Nord project hit another obstacle on January 21 when the Federal Supreme Court upheld an appeal from rival operator Swissterminal, finding that Schweizerische Rheinhäfen, which operates the ports along the Rhein and is owned by the cantons of Basel-Landschaft and Basel-Stadt, had violated the rights of Swissterminal. This decision overturned a ruling by the lower Basel-Landschaft Cantonal Court.
Schweizerische Rheinhäfen had decided to move ahead with the project without issuing a public tender and had refused to allow Swissterminal the right to issue an appealable decision to waive the tenders. Swissterminal lodged a complaint against this ruling, but this was dismissed by Basel-Landschaft Cantonal Court on February 20 2019, prompting Swissterminal to file an appeal with the Federal Supreme Court. This has now been upheld.
In October 2019 the Federal Supreme Court had upheld another appeal by Swissterminal when it found that the company had been denied an opportunity to comment on the financing of Gateway Basel Nord.
The latest ruling looks set to further delay the start of work on Gateway Basel Nord.