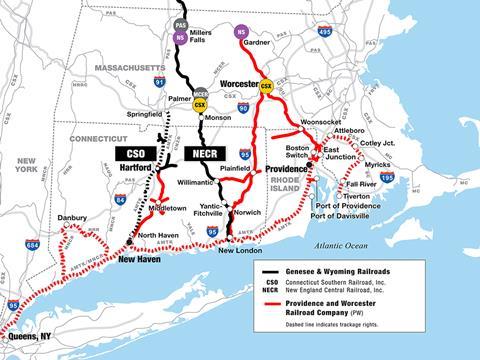 USA: Genesee & Wyoming Inc entered into a definitive agreement for the acquisition of Providence & Worcester Railroad Co on August 12. Subject to customary closing conditions, Surface Transportation Board regulatory approval and the backing of P&W shareholders, the $126m deal is expected to be concluded in the fourth quarter of 2016.
Headquartered in Worcester, Massachusetts and operating in Rhode Island, Massachusetts, Connecticut and New York, P&W is contiguous with G&W's New England Central Railroad and Connecticut Southern Railroad. It has around 140 employees, 32 locomotives, 260 km of owned track and 560 km of track access agreements, including exclusive freight access over Amtrak's Northeast Corridor between New Haven, Connecticut and Providence, Rhode Island, and trackage rights over MTA Metro-North, Amtrak and CSX Corp infrastructure between New Haven, Connecticut, and Queens, New York.
P&W also connects with CSX, Norfolk Southern, Pan Am Railways, Pan Am Southern, the Housatonic Railroad and the New York & Atlantic Railroad, and connects to Canadian National and Canadian Pacific via the NECR.
It serves a mix of aggregates, automotive, chemicals, metals and lumber customers in southeastern New England, handling approximately 43 000 carloads and intermodal units annually. It serves the ports of Providence, Davisville and New Haven, and a USA Customs bonded intermodal terminal in Worcester, Massachusetts. P&W also owns 45 acres of undeveloped waterfront land in East Providence which G&W expects to sell.
The Robert H Eder Trust and the Linda Eder Trust, which own a majority of the preferred stock of the P&W and 17·3% of the common stock, have entered into a voting agreement with G&W in favour of the transaction. Chairman & CEO Robert H Eder said becoming part of G&W would ensure that the P&W 'will continue to provide the quality of service which our customers and the communities we serve have enjoyed over the 40+ years since we re-commenced independent operations while at the same time continuing and improving on our programmes to promote employee and community safety.'
G&W anticipates P&W will generate $35m of revenue and $12m of EBITDA in the first year, including $8m of immediate cost savings. In the medium term, G&W anticipates additional operational efficiencies and commercial opportunities will generate a further $5m of EBITDA over the following two to three years.
G&W expects P&W to require $3m of annual capital expenditures and have depreciation and amortisation expenses of $3m. It also expects annual diluted EPS accretion from the acquisition of approximately 2%.
G&W is to fund the acquisition through its revolving credit facility, which had available capacity of $542m as of June 30.
'The acquisition of P&W is an excellent strategic fit', said G&W President & CEO Jack Hellmann. 'Following anticipated STB approval of the acquisition, our connectivity with the P&W enables us to realise substantial immediate cost savings, to share and optimise the utilisation of equipment and other assets, and to unlock significant new customer opportunities across sister G&W railroads as well as connecting partners at two Canadian Class I railroads, two US Class I railroads and two regional railroads. Our acquisition of the P&W will ultimately enhance the efficiency and customer service of rail in New England.'