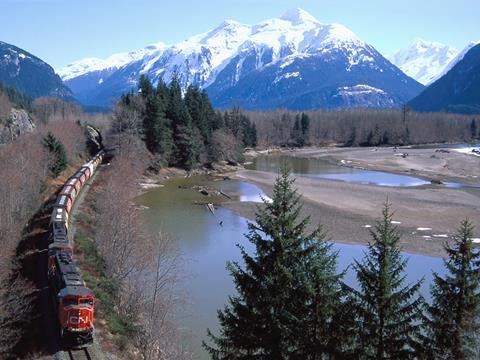 CANADA: 'CN's growth continues to outpace the economy', said Canadian National President & Chief Executive Officer Luc Jobin, reporting the company's 2017 results on January 23.
Thanks to a strong fourth quarter, which saw a 156% increase in net income compared to the same quarter in 2016, CN recorded an 8% increase in overall revenues for the year to C$13bn. Net income increased by 51% to C$5·4bn. Carloadings were up 10% and revenue tonne-km by 11%. Operating expenses also increased by 11% to C$7·5bn, leading to a 1·5 point increase in the operating ratio for the year to 57·4. CN's operating ratio for the fourth quarter was 60·4, 3·8 points worse than the same period in 2016.
'Throughout the year we faced rapidly changing market demands and in the fourth quarter dealt with challenging operating conditions, including harsh early winter weather across the network, impacting our performance', Jobin explained. 'As the economic backdrop remains favorable in North America, we expect to see continued volume growth in 2018.'
To cope with this projected growth, CN has announced a 'record' C$3·2bn capital programme for 2018, including C$1·6bn for track and infrastructure maintenance and C$700m for capacity expansion. During the year CN expects to take delivery of 60 new locomotives as part of the three-year order for 200 placed with GE Transportation in December. Other enhancements include additional track capacity on the West Coast – Chicago corridors, infrastructure projects at Toronto, Memphis and Joliet, and new rolling stock for intermodal services.
This year CN expects to spend approximately C$400m on implementing Positive Train Control along 5 600 route-km of its US network, as part of an anticipated total investment of US$1·4bn on PTC by 2020.
'With our 2018 capital programme and ongoing hiring, we are focused on meeting the needs of our customers', said Jobin. 'We have confidence in the North American economy and in our ability to help our customers grow their businesses.'