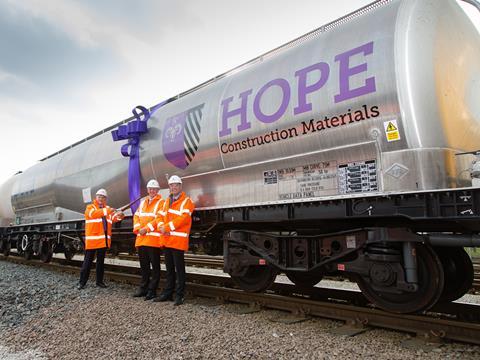 UK: The first of a fleet of 48 wagons built by Feldbinder for Hope Construction Materials was unveiled at the company's cement works at Hope in Derbyshire on February 26 by Transport Minister Andrew Jones. Half of the wagons are now in service, and the rest are expected to arrive from Germany this month.
Hope said the custom-designed wagons developed in partnership with leasing company VTG Rail UK represent an investment of £1m/year over 11 years. They have a capacity of 80 tonnes, more than twice the 36 tonnes of previous designs, and the shorter wheelbase will help to reduce noise.
'These new aluminium wagons are the lightest in their class, with significantly increased payloads meaning fewer trains are needed to achieve the same annual volume', said Ian Shaw, Sales & Marketing Director at VTG Rail UK.
The payload of each train will be increased by 500 tonnes to 1 850 tonnes, and Hope expects the total number of trains required to move its products to be reduced from 768 in 2015 to 627 in 2016.
'We are delighted to unveil this project which will result in greater efficiency and sustainability of our rail operations throughout the UK', said Industrial Director Ashley Bryan. 'This new deal will see Hope able to transport bigger payloads in fewer journeys, benefitting both our customers throughout Britain, but also the environment.'