PARIS: A high-level conference on October 29 sought to assess progress towards a European freight-oriented network, but numerous obstacles lie ahead. Murray Hughes reports.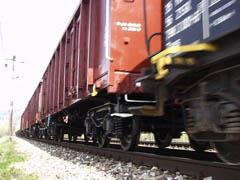 Opening the Freight without Frontiers conference in Paris on October 29, Réseau Ferré de France President Hubert du Mesnil saw the event as 'a moment of departure'. Quoting John Maynard Keynes' famous dictum that 'the difficulty lies, not in the new ideas, but in escaping from the old ones', du Mesnil suggested that 'we need to act faster in developing a freight-oriented network and in completing projects in the pipeline: ERTMS corridors, international train path management, train path catalogues, [and a] European information system.'
Three topics dominated the debate: technology, competition and regulation. There is a widespread perception that technical issues are hindering progress in developing European rail freight, but the European Commission's Co-ordinator for ERTMS Karel Vinck observed that the main issue was not the definition of technical standards, but how the railways 'moved from existing systems to the new one', and French Secretary of State for Transport Dominique Bussereau urged delegates to 'forge ahead with the introduction of ERTMS by adopting a pragmatic approach in economic and industrial terms.'
For François Lacôte, Alstom Transport's Technical Director, who was standing in for Chairman Philippe Mellier, Europe's freight business needed the equivalent of what high speed rail had achieved in the passenger market. It was technically possible to build powerful four-system freight locomotives that were interoperable, but 'technical interoperability does not solve the problems of procedures' that handicap the freight business. 'Whereas it takes three months to certify a freight locomotive for use in China, in Europe it needs 18 months', he said. Above all, he felt, Europe needed a major clear-out or 'grand nettoyage' to push through measures favouring rail freight.
Executive Director of Veolia Cargo Denis Paillat echoed this sentiment, complaining that 'we've experienced some difficulties in obtaining approvals' and that 'the safety authorities are left to their own devices' so that 'sometimes we have to wait months – this is not compatible with the market'.
The inability of rail operators to react quickly was cited as their downfall when faced with competition from road haulage. ERFA Chairman Luca Ronzoni compared the ease with which a Greek lorry driver could take a load from Sicily to Sweden against the difficulties facing rail freight operators. These included 'using on average one driver per country, and two in Italy'. This was one of many factors driving up costs, which hobble many attempts to win traffic from road. Rail Freight Group Chairman Lord Berkeley felt that 'the biggest challenge facing us all is getting costs down and developing incentives for infrastructure managers to run more trains at lower cost.'
Competition
As the conference tried to identify factors that would achieve the long-desired modal shift, on-rail competition was repeatedly mentioned. For Chris Bolt, Chairman of the Office of Rail Regulation in the UK, 'competition works and delivers clear benefits to users', a view supported by Berkeley who pointed to reports from rail freight customers in the UK that '98% of their trains were on time'.
Despite the March 2003 liberalisation allowing operators access to the 50 000 km Trans European Rail Freight Network, on-rail competition in much of mainland Europe remains in its infancy. While du Mesnil believed that there was 'no longer an ideological debate for or against competition', the failure to introduce it in an effective manner was a serious obstacle. In France, open-access operators have quickly increased their share of the market to 7%, but du Mesnil noted that 'SNCF's weakness continues to be a handicap for rail freight', and SNCF's Freight Director Luc Nadal openly admitted that 'it was a serious error to delay opening of the market' in France.
Claude Samson, Logistics Director of the Monoprix Group which since November 2007 has been using a service provided by SNCF to bring freight for its supermarkets into central Paris, was in no doubt about the effect of a lack of competition to drive policy within SNCF. 'Our contacts did not have a commercial spirit', he said, citing the need for deliveries to arrive within half an hour of schedule. 'Their reference was within two days - our shops cannot operate on that basis', he declared. At the moment Monoprix has one train a day, but to obtain a second train 'we need a year or 18 months' before it can run. In contrast, road hauliers can generally make a change overnight, he said.
Legislation emanating from the high-level 'Grenelle' on the environment in France was adopted by the Assemblée Nationale on October 21, and this included a target for a 25% improvement in 'non-road' freight's market share by 2012. Given that rail freight volumes in France are in fact falling rapidly, this will be hard to achieve, and Paillat was among those voicing scepticism about the target being met.
Regulation
A session on regulatory issues revealed just how far Europe falls short of the ideal. What little regulation there was often appeared ineffective, or the regulator lacked independence. Incumbent operators were still able to block access to terminals, depots and other facilities. Paillat called for a regulator perhaps modelled on the Office of Rail Regulation in the UK - legislation to establish a French rail regulator is only now in progress (RG 10.08 p762).
Was it time for a European regulator? MEP Michael Cramer was in no doubt, but Prof Dr Karsten Otte, Director of Rail Regulation at Germany's Federal Network Agency was not convinced, cautioning that there are 'so many national legal questions to deal with'. Bolt opined that 'if the problem is Europe-wide', a European regulator was needed, but RFG's Lord Berkeley was of the view that 'there has to be a regulatory body - there's chaos at the moment, right across everywhere'. Too often there was a conflict of interest between regulators and transport ministries, he said, adding that it would help if existing European legislation was actually implemented 'in exactly the same way in every state' (p982).
Gilles Savary, Vice-Chairman of the Committee for Transport & Tourism in the European Parliament, expressed concern about the future of wagonload traffic, asking 'if we do not have small streams, how are we going to have the broader river?' While fellow MEP Cramer observed that 'wagonload will disappear' if mega-trucks are allowed on to Europe's roads, Victor Schoenmakers, Director Europe, Port of Rotterdam, was in favour of any measure that would enable freight to move faster in and out of the port.
Throughout the event, references were made to the prospect of a dedicated freight network, and Enrico Grillo-Pasquarelli, Director for Inland Transport at DG-TREN, confirmed that legislation was being drawn up for a priority network for freight following consultation that ended on August 5. While this will undoubtedly be welcome, Cramer's view was that the European Commission's desire for a single network for freight may remain no more than 'a nice dream' for some time to come.
Organised by RFF and the French Ministry for Ecology, Energy, Sustainable Development & Territorial Planning, the event was intended 'to bring together all the major political, economic and operating players'. However, it failed to offer a single speaker from what is arguably the biggest player in Europe's rail freight business, namely Deutsche Bahn. This omission suggests that national rivalries remain a major problem, and who would argue with Cramer in his view that 'railways are the last nationalist organisations in Europe'?